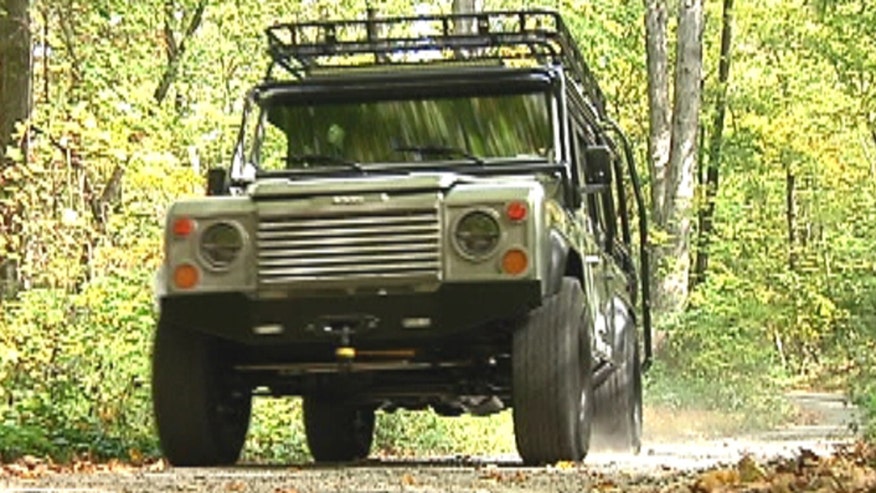 The venerable Land Rover Defender is nearing the end of the road. On sale since 1983, it's scheduled to be replaced by an all-new model in 2018.
Of course, Americans are already used to not having them around. A small number of the off-roaders were imported in the 1990s, but when those pesky safety and emission regulations got too tough for them, Land Rover decided it wasn't worth the money to keep them up to date, so it stopped selling them here.
That was right on the cusp of the SUV explosion, and, in retrospect, maybe not the best idea. A couple of years later, rival Mercedes-Benz started importing a luxury version of the even more ancient G-Class, which is still on sale today for starting prices as high as $218,000.
Land Rover has a model that costs about that much, too, but it's a version of the super-slick Range Rover. The appeal of the G-Class is its unique combination of old-time utilitarianism with high performance engines and luxury trimmings.
It's not too hard to imagine that a Defender done up the same way would have been pretty cool. In fact, you don't have to imagine it at all, because someone else already did.
California-based custom car manufacturer ICON has reinvigorated a four-door Defender 110 for a client, blending its classic style with modern amenities and performance. Company founder Jonathan Ward says the idea behind it was to envision what the original designers might have done if they hadn't been shackled by the tight budget that went with what was designed primarily to be a military machine.
ICON started with a 1993 model that had seen better days, one of just 500 that Land Rover officially imported to the U.S. Ward kept the frame and the body parts that were still in good shape, but he replaced pretty much everything else.
But that's not to suggest it's unrecognizable. Ward's goal is to maintain the look and flavor of a vehicle while enhancing it. This starts with replacing the plastic parts, like door handles and knobs, and otherwise insignificant metal bits, including door and hood hinges, with aluminum recreations crafted on a CNC machine.
Did LED lights even exist in 1993? Well, that's all you'll find here.
It's the same inside. Nearly all surfaces are metal, carpeted, covered in Alcantara or upholstered with bison leather, which feels both sturdier and suppler than your typical bovine hides. There are new, retro-style gauges, a Bluetooth equipped Alpine audio system and the kind of sound insulation that members of the Royal Army could only dream about while driving past a bomb disposal site. Four bucket seats and two side-mounted fold-down perches in the cargo area provide accommodations for six.
The wiring system is all-new, so no jokes about British electronics, please. And while the stock transfer case remains, it's been upgraded and paired with MIL spec axles that are connected to the 110 via a suspension developed by renowned Land Rover specialist Twisted Automotive.
The power delivered to those axles comes courtesy of a General Motors E-Rod 6.2-liter big block V8 crate motor that's rated at 430 hp, a big jump from the stock 3.9-liter Rover V8's 180 hp. And before you get on ICON's case for tearing the British heart out of the Defender, remember that the engine was based on a 1960s-era Buick V8, so the GM connection is somewhat fitting. Plus, as Ward points out, it's a lot easier and cheaper to find the parts to update or repair an E-Rod than an out-of-production import mill.
Besides, combining British pluck with American power often yields great things, like defeating evil empires and the Shelby Cobra. The ICON Defender moves with similar authority, and it sounds great.
ICON previously did a Defender 90 that was a hardcore off-roader, but this 110 is tuned more for the street. The ride feels familiar, but cleaned up, with a lot of the antique sloppiness dialed out of it.
The ergonomics are still old-school. The quarters are close up front, there isn't much legroom for the driver and the steering wheel sits at an odd position. Passengers fare better in the second row, but while the center-facing jump seats may be great for quick exits when you're out on patrol, two kicky kids may feel differently staring each other down on a long trip.
Frankly, I don't know if that last part was a concern for the customer who commissioned this build, but I can tell you that he paid about $350,000 to make it happen. Yeah, that's a lot, even by ICON standards. The company's bread and butter Toyota FJs and Ford Broncos run closer to $150,000, and it sells a lot of those.
But don't expect to see many more of these dandy Defenders, and definitely not at a lower price. As previously noted, there isn't much of a pool of donor vehicles out there, at least not in the U.S. And most of the ones in circulation are in fine shape and often sell for six-figures, as is. Also, as wonderful as this old truck is, the original build quality is surprisingly shady. You'll find many of its lines misaligned, and Ward says no two Defenders he's seen are exactly alike, so mass-producing his custom parts wouldn't be possible.
Still, as a one-off, and in light of those G-Class prices, the price really isn't as crazy as it sounds.
Land Rover's 2018 Defender product planners should take notes.
Gary Gastelu is FoxNews.com's Automotive Editor.