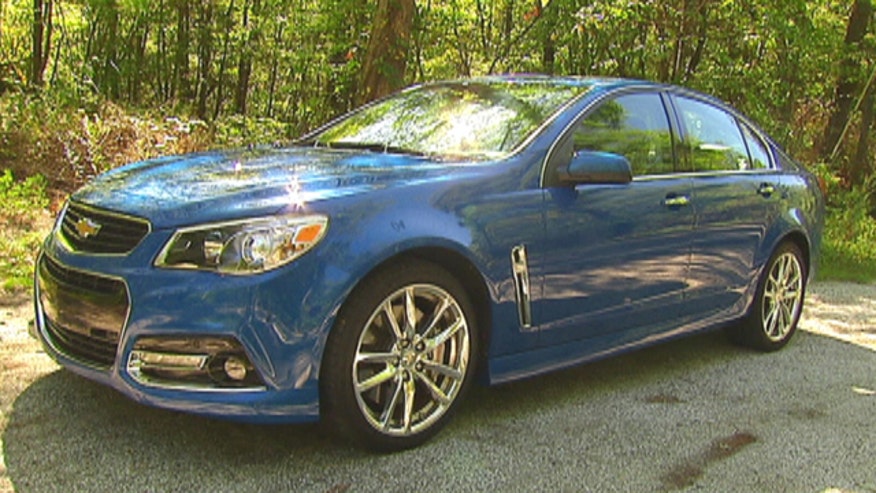 We've been here before. The end of the road, that is.
Along with the bathwater that was Pontiac, General Motors threw out one of the most exciting vehicles it ever made: the G8 GXP.
Not only did the full-size, four-door muscle car come with a 415 hp 6.2-liter V8, but also a six-speed manual transmission. It was a family-friendly, tire-blistering bliss, but in the heyday of expensive gas and hybrid cars that was 2009, also a dinosaur that should've went extinct.
But it didn't.
We all know the story. Oil prices dropped, people started buying trucks again, and a horsepower war began that probably hasn't yet culminated with the 707 hp Dodge Hellcat V8.
Miraculously, the G8 GXP is back, too. Only this time it's called the Chevrolet SS.
GM had been keeping it warm for us all these years in Australia, where it's built and sold under the Holden brand as the Commodore. It returned to the USA last year with a substantial cosmetic makeover, but basically the same underpinnings as the G8 GXP, and was as great as ever. That is, except for one thing.
It didn't have a manual.
But now it does. For 2015 the SS is available with a stick, completing the G8 GXP's resurrection.
And it gets better. GM's Magnetic Ride Control active and adjustable suspension is now standard on the SS, regardless if you choose the automatic or DIY transmission. It also comes with a head-up display, navigation, collision alerts, lane-departure and blind spot warning systems, and some killer sport seats.
The starting price is $46,740 for the no-cost-option manual, which still manages to be $1,300 cheaper than the automatic because it ducks the gas guzzler tax. Just. While both versions have the same, very old-school 17 mpg combined fuel economy rating, the manual does one better in the city category at 15 mpg. That's on paper. In the real world, having a clutch offers more opportunities to rev the engine and burn some guzzoline just for the fun of it.
Despite its ancient lineage, the SS still one heck of a ride. The engine, shared with the current Camaro SS is a thriller that hits all the right, deep, burbling NASCAR notes. The rest of it is unbelievably light on its feet for something in the leviathan class. Incredibly, the SS weighs about the same as the Camaro, and is better than the coupe anywhere off a track. Arguably on one, too.
Those shocks give it a great ride and handling in Tour mode; a firm and jarring ride, but even better handling in Performance mode; and Sport splits the difference. In any setting, they are worth their weight in the iron particles suspended in fluid that allow them to constantly fine-tune their stiffness.
But that magic wand is the main attraction.
The SS is the only sedan from an American brand that you can buy with a V8 and a manual transmission. In fact, the only others on sale in the USA are the BMW M5 and M6, and they cost twice as much.
Look, I'm not anti-automatic by any means. Sticks are terrible in traffic, and it's hard to eat a Double-Double behind the wheel when you need your right hand to make the car go. I get it, and don't hold it against anyone who goes that route. But the manual enhances the character of the SS in such a way that I just can't imagine buying one without it. Yea, the clutch needs a firm press like the Camaro's, and the gas and brake pedal are too far apart to easily blip the throttle on downshifts, but these are trifles that can be mitigated by wearing boots.
It's not much of an attention-getter, but it looks muscular in person, and a fair amount of chrome jewelry adds a little dazzle. For 2016, new hood vents and an updated front end promise to dial the visual impact up another notch, but it still won't turn your average head.
No, the SS is not for everyone, and Chevy knows that all too well. It only imports a couple of thousand a year from Down Under for its very specific target audience, and this tight supply leads many dealers mark them up accordingly. Good luck finding one for the price mentioned above.
However, consider it an investment if you do. The SS is could be the closest thing you can get to a treasury bond on four wheels.
Even six years later, and with the brand new and superior SS on sale, used G8 GXP manuals often list for at or near their original price on the rare occasions that they surface online. That's unheard of for practically any car not sporting a Prancing Horse. Granted, they didn't make that many, but the SS is destined to be a limited edition, as well.
Holden is scheduled to stop producing cars in Australia in 2017, and the SS will die with the factory that makes it. Plans are already afoot to replace it there with a V6-powered front-wheel-drive sedan. Unless Chevy decides to reboot one of its rear-wheel-drive Cadillac platforms as a new SS, the end of the road is, sadly, nigh.
Then again, we've been there before.
----------
2015 Chevrolet SS
Base price: $46,740
Type: 5-passenger, 4-door sedan
Engine: 6.2-liter V8
Power: 415 hp, 415 lb-ft torque
Transmission: 6-speed manual
MPG: 15 city/21 hwy
Gary Gastelu is FoxNews.com's Automotive Editor.