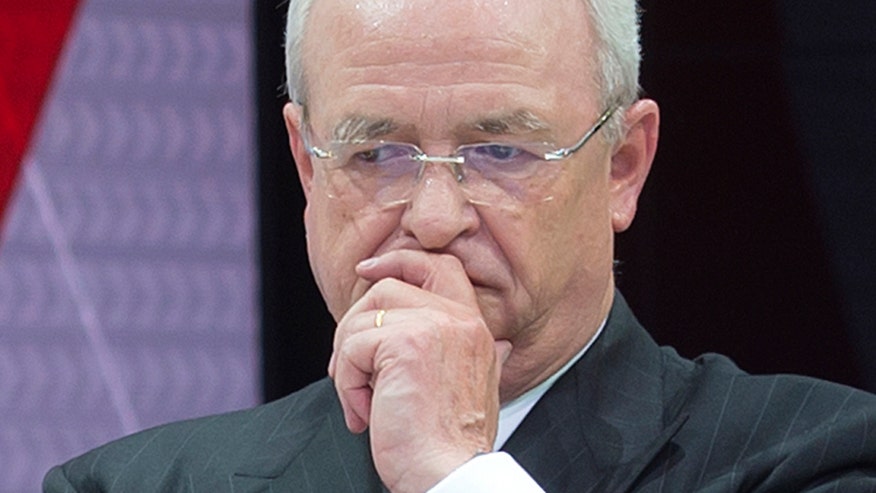 Volkswagen CEO Martin Winterkorn says he is stepping down "in the interests of the company" after an investigation by the U.S Environmental Protection Agency found the German carmaker used special software to trick US emissions tests, and the company admitted to installing similar software on 11 million diesel cars worldwide.
"Volkswagen needs a fresh start – also in terms of personnel. I am clearing the way for this fresh start with my resignation," Winterkorn said in a statement Wednesday.
He said he was acting in the interests of the company "even though I am not aware of any wrongdoing on my part."
Winterkorn's contract was scheduled to be extended by two years through 2018 at a meeting this Friday of the supervisory board. A successor was not immediately announced.
German Vice Chancellor Sigmar Gabriel said after the resignation it's important for the scandal to be cleared up completely "by the company itself, as well as through cooperation by Germany and the company with American prosecutors and the American authorities."
Winterkorn came under intense pressure to resign after Volkswagen admitted the vehicles sold worldwide are fitted with the same software designed to get past emissions-testing equipment. The software then switches off, enabling cars to drive more powerfully on the road while emitting as much as 40 times the legal pollution limit.
"A noticeable deviation between bench test results and actual road use was established solely for this type of engine," the company said Tuesday. "Volkswagen is working intensely to eliminate these deviations through technical measures."
The company's U.S. President and CEO, Michael Horn, said Monday "we have totally screwed up."
"It is and remains the top priority of the Board of Management to win back lost trust and to avert damage to our customers," the company said in a statement. "The Group will inform the public on the further progress of the investigations constantly and transparently."
The Environmental Protection Agency has said Volkswagen AG could face fines of as much as $18 billion.
In the wake of Winterkorn's statement of resignation, VW's share price was up 8.7 percent, a jump from its declining price earlier this week when it hit a near a four-year low, losing around $28 billion of the company's market value.
Meantime, Volkswagen announced new vehicles with EU 6 diesel engines currently on sale in the European Union comply with legal requirements and environmental standards.
But South Korea and Germany, announced they'll be investigating emissions levels of Volkswagen diesel vehicles. France also called for a wider Europe-wide investigation into Volkswagen's practices and those of French automakers.
The scandal is being felt across the auto sector as traders wondered who else may get embroiled. Germany's Daimler AG, the maker of Mercedes-Benz cars, was down 6 percent, while BMW AG fell 5.3 percent. France's Renault SA was 5.5 percent lower.
"It's an auto sector shaking incident," Connor Campbell, a financial analyst at Spreadex, told the Associated Press.
The Associated Press contributed to this report.