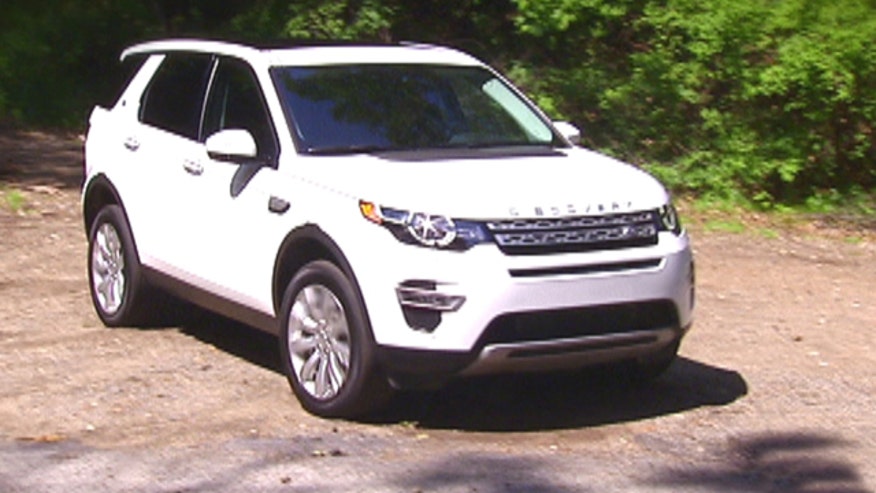 You can't always start at the top, but it's nice to know you have a chance to get there.
The Discovery Sport is Land Rover's new entry-level model, and the first in its soon-to-grow Discovery line of street-smart crossovers. It mixes country club style with just enough off-road cred to earn the Land Rover logo.
Inside, the compact SUV is as snazzy as a boutique hotel bar, and the trimmings live up to its $38,065 starting price. It's primarily a five-seat vehicle, with a roomy, adjustable second row, but two-seat third row is available for $1,750. They're handy, but so small that Land Rover accurately refers to them as +2. The cargo bay they fill may be better left empty, and provides a nice big space when it is. Packing for a week-long trip for a family of four or five should be no problem.
Don't let the name fool you. "Sport" in this case really means "fun size," and there will be a larger Discovery model arriving next year. Nevertheless, its 240 hp turbocharged four-cylinder engine and nine-speed automatic transmission combo provides enough punch to keep things lively, even though it likes to hunt for fuel economy in the upper gears, where it finds 26 mpg on the highway. Floor it to pass or merge, for instance, and it can take a good three or four count before anything particularly sporty happens, even in Sport mode.
Whether you are or aren't doing that, the Discover Sport is supremely quiet inside, with a smooth and composed ride, even on twisty roads. This is despite the fact that it has 8.3 inches of ground clearance and some serious, stone-stepping wheel articulation to go with it.
It'll also wade through nearly two feet of water, thanks to hefty door seals and an air intake positioned out of the splash zone, high and to the side of the engine bay. The standard all-wheel-drive system offers modes for a variety of surfaces, including gravel, sand, snow and grass, the last perfect for navigating outdoor music festival parking areas and creating general mayhem on a Scottish Moor or your local golf course.
I refrained from doing that, but did take it into the deepest darkest forests of New Jersey. (Hey, they have wild bears there. Take that, Scotland.) On a particularly steep and rocky trail it proved that it has more mettle than anything in its class, if not a Range Rover or Jeep Grand Cherokee. I wouldn't go looking for trouble in it, but you should be fine if you make a wrong turn.
The optional lane departure warning system and blind spot monitor can help you from doing that, while a road sign-reading camera displays the posted speed limit on the instrument cluster. If you're paying too much attention to that, it also keeps an eye out for cars you're about to run into and brakes if you don't.
One highlight that won't make headlines, but is mightily appreciated when you're laden with tech, is the use of high-output 5-volt USB charging ports, and there are several, along with four 12-volt sockets scattered throughout the cabin.
The single-pane, full glass roof is an eye-opener, but doesn't open. Still, it's just another feature that helps the Discovery Sport stand out in a crowded segment. Overall, it's unique enough to make a compelling alternative to competing luxury crossovers like the Audi Q5 and BMW X3, and when the going gets rough, it has the goods to leave them in the dirt, if not the dust.
----------
2015 Land Rover Discovery Sport
Base price: $38,065
As tested: $50,250
Type: 5-passenger, 4-door crossover
Engine: 2.0-liter turbocharged 4-cylinder
Power: 240 hp, 250 lb-ft torque
Transmission: 9-speed automatic
MPG: 20 city/26 hwy
Gary Gastelu is FoxNews.com's Automotive Editor.