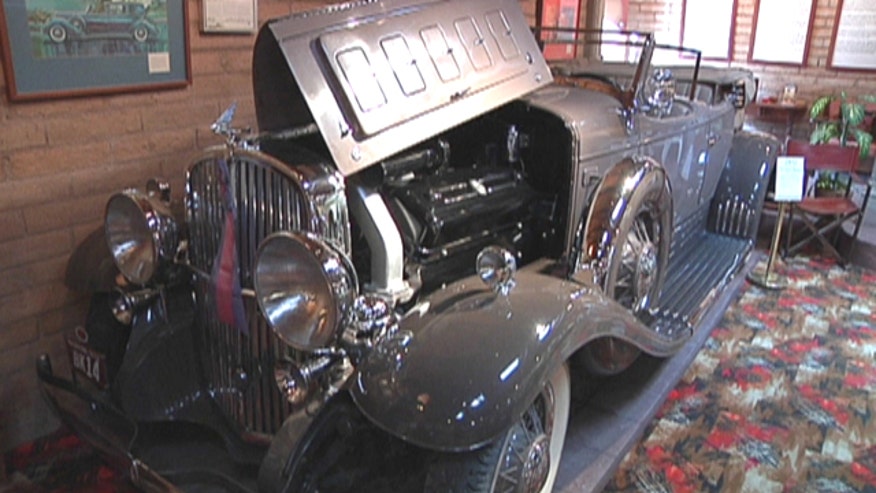 The Franklin Auto Museum in Tucson, Arizona, is home to one of the rarest vintage car collections in the United States. The small, privately-owned attraction hidden off a quiet dirt road in a residential neighborhood.
Over the course of his life, Tucson native Tom Hubbard's childhood fascination with cars made by the Franklin Automobile Company grew into one of the largest collections of the pre-war luxury cars in the country.
"Tom fell in love with Franklins as a child, when his parents purchased a Franklin coupe. But it wasn't until the 1950's that his love really took over," museum curator Bourke Runton tells FoxNews.com. "He fixed up an old Franklin one day, and he was hooked."
Hubbard was a mining engineer by trade, but his love of restoring cars eventually became a full-time career. His impressive work became well known on the classic car show circuit.
The museum is located in Hubbard's childhood home, and established shortly after his death in 1993. He spent his life hunting down rare Franklins from around the world, amassing a total of 26 cars. It's opened to the public from mid-October to Memorial Day.
"He decided he wanted to do something for the community, and he was supported by his family," says Runton. "The decision was made to give this piece of property, with the buildings and the cars, to the community."
Franklin fell victim to the Great Depression, and went out of business in 1934. But the museum allows the luxury car brand to live on in all of its splendor.
"We have many restorations, but we were able to acquire two cars that are basically the newest original surviving Franklins. It's so rare to have a car just the way it was made from the factory. It's only original once," says Runton, who hopes the museum transports visitors to another moment in time.
"The car industry today is taking a different direction. A Lexus is a fancy, extra nicely finished Toyota. In the 10's and the 20's, cars were really different. They had their own personalities. They were like people."
Aalia Shaheed is part of the Junior Reporter program at Fox News. Get more information on the program here and follow them on Twitter: @FNCJrReporters