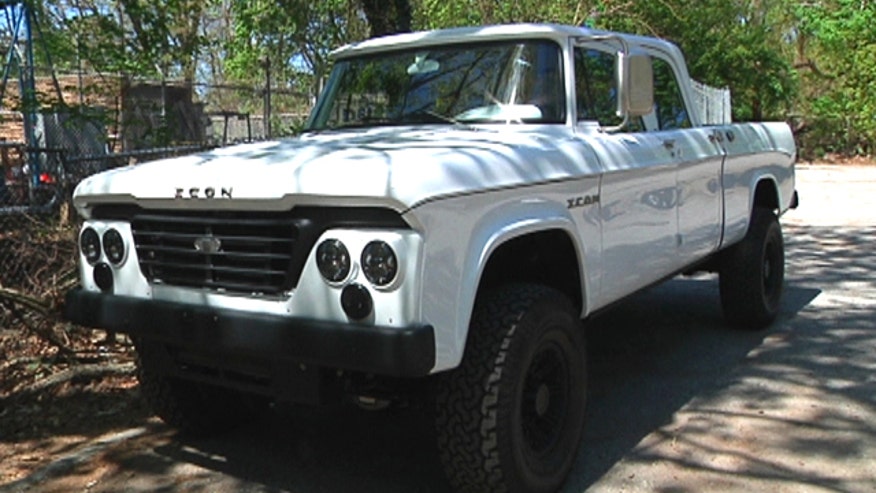 $300,000 for a pickup truck?
"Definitely not for everyone, but for the right guy, it's a home run."
So says Jonathan Ward, founder and CEO of California boutique automaker ICON, whose modernized take on the 1965 Dodge D200 cost a fair bit more than the original to build.
Created for a Wyoming rancher, the retro-updated ride mates the crew cab bodywork of the original with the chassis of a heavy duty 2007 Dodge 3500.
Ward says it was almost a perfect fit. Just eight inches of rear overhang had to be removed, but the width was spot on. ICON cleaned up the body panels, and recut the front wheel openings to better match the ones in the rear, not to mention clear the new 37-inch tires mounted on beadlock wheels.
A 4.5-inch Chase lift kit fitted with nitrogen-filled Fox reservoir shocks was also added, but the engine saw some of the most extreme modifications. Ward sent the truck to Banks Power for a full overhaul of its 5.9-liter inline-six-cylinder Cummins turbodiesel powertrain. The net result of a new intake manifold, intercooler, exhaust, electronics and methanol injection is a whopping 500 hp and 975 lb-ft of torque.
First gear in the six-speed manual transmission is marked "L" because with that much torque on tap you rarely need to use it. Second, or even third gear starts are a breeze for the unladen vehicle, which should have no trouble traversing the wide open spaces of The Cowboy State.
The enormous truck steps off nicely from a dead stop, but when that turbo really kicks in after a second or two it's like getting hit in the rear by a herd of American bison.
They might be angry that their hides were used to upholster the seats and ceilings of the otherwise pure metal interior. The reservation-sourced is leather courtesy of another southern California design house, Parabellum Collection, better known for its luxury handbags and accessories.
All of the knobs and controls in the cabin have been rebuilt in a period correct style using machined-tooled alloys, while tinted acrylic sun visors and a refinished modern gauge cluster are the most obvious nods to the truck's 21st century underpinnings. Lap-only seatbelts all around are definitely not.
That said, the dash-top ashtray has been replaced by a pop up display complete with a car computer, navigation and the controls for a JL Audio system, which can also be adjusted using the old-time radio interface below.
Don't even bother using it. One thing that's very old-school is how much noise the truck makes on the move. Between the epic, bellowing engine and exhaust sounds and the wind noise, it's pretty clear sound insulation was not a high priority on the build sheet.
The wide tires and gigantic original steering wheel conspire to make things a little vague at speed for an uninitiated city slicker like me, which is not exactly a confidence builder in a behemoth that pretty much fills up an entire lane. Comfort levels are very contemporary, however, and body motions nicely controlled. Bright LED light clusters filling the original sealed-beam openings should help clear the road ahead.
For truck lovers who think this all sounds like the ridiculous folly of some crazy millionaire -- which to some extent it certainly is -- you can rest assured the owner fully intends to put it to work pulling horse trailers and riding fences. He tells Ward that he hopes to keep it for a very long time, unlike the less charming trucks of today that he rides hard and throws away once their plastic bits start turning to pieces.
Unlike his production lines of reimagined Ford Broncos, Toyota FJs and Willys Jeeps, Ward planned the Dodge to be a one-off project, but has had so much interest in it that he thinks he'll end up doing a couple more.
Just don't expect them to look exactly the same as this one. When you pay this kind of money you don't want to see your truck coming the other way, especially way out on the range.
That might be awkward. Even for a couple of cowpokes.
Gary Gastelu is FoxNews.com's Automotive Editor.