With election headed for possible stalemate, British lawmakers woo voters _ and each other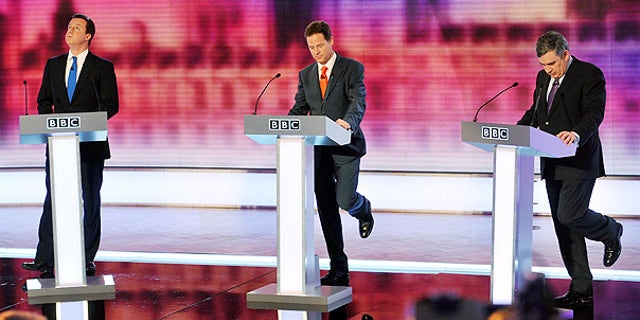 LONDON – LONDON (AP) — Britain's main political parties crisscrossed the country to woo wavering voters Tuesday, but they also courted each other as opinion polls indicated that the national election could produce no clear winner.
Back room deals may ultimately decide who governs Britain if all three main parties are denied an outright majority, as expected, in Thursday's vote.
Prime Minister Gordon Brown's governing Labour Party — set to lose power after 13 years in office — reached out to the Liberal Democrats, the perennially third-place party that has enjoyed an unlikely surge during the campaign.
But Nick Clegg, the Liberal Democrat leader whose stellar TV debate performances have fueled his party's surge, hinted he could strike an unexpected pact with Conservative Party leader David Cameron.
Cameron, still hoping to win a slender majority or lead a minority administration, headed to Northern Ireland to seek support from the province's Democratic Unionists, who could deliver enough backing to let him form a government without a larger rival. Volcanic ash shut down Irish airspace Tuesday morning, but he made the trip after a delay.
The latest opinion polls indicated that Cameron's Conservatives were on course to win the largest share of the popular vote and the largest number of House of Commons seats — but not enough for a majority. Some polls have placed Labour in third place, behind Clegg's party.
Brown acknowledged that if his party slumps during the election, he'll take the blame — a comment interpreted as meaning he'd likely quit as party leader just three years after replacing Tony Blair in that role.
"It's me that's got to take the blame, it's me that's got to take the responsibility. If there's a mistake made, it's my fault," Brown told Britain's GMTV television.
One Labour Party candidate facing defeat in eastern England said Brown must go.
"Gordon Brown has been the worst prime minister we have had in this country," party rebel Manish Sood said.
In a surprising ploy, two Labour Cabinet ministers told supporters they may need to vote for Clegg's Liberal Democrats in some districts where Labour trails in order to deny Cameron's party an outright victory.
"I think it's important for people to act intelligently in this election," Welsh Secretary Peter Hain said. "My ultimate aim is to get a Parliament which drives through political reform, with Labour in alliance with the Liberal Democrats and others who want to reform the political system from top to bottom."
Both Hain and Education Secretary Ed Balls appealed to Liberal Democrats to support Labour candidates in districts where their party's candidate has little chance of success. Hain urged supporters to "vote with their heads, not their hearts."
Blair, who is campaigning for Brown in northern England, urged people to vote Labour — period. Meeting voters in a farm shop and restaurant, the former prime minister told them to "vote for what you believe in."
Despite Labour's wooing of the Liberal Democrats, Clegg has declined to say which rival he would support if Britain's election creates the first hung Parliament since 1974.
Although he is regarded as sharing more ground with Brown's Labour party, Clegg suggested he would back any partner who met his demands to reform Britain's political system, overhaul the economy and reduce taxes for lower-paid workers.
Clegg has made moving to a proportional voting system — a policy opposed by Cameron — central to his campaign, but told the Financial Times it would not be a precondition for talks over a deal with a rival party.
"I have never talked about preconditions for talks," Clegg told GMTV. "I have always talked about the things I want to fight for, the changes I want to fight for."
Cameron, who began a 36-hour round-the-clock campaign tour Tuesday, is seeking the backing of Britain's fourth largest individual party, Northern Ireland's Democratic Unionists, who currently hold eight seats and could tip the balance of Parliament's 650 seats in Cameron's favor.
But Conservative lawmaker Liam Fox — likely to be defense secretary in a Cameron government — said his party was hoping to win outright. "I think we have to fight very hard for it. The deal is not closed until the last vote is cast," Fox said.
Fox dismissed Hain's courting of the Liberal Democrats and said the public would be unimpressed that Labour appeared to want to "do the haggling even before the voters have gone to the polling station."