Wiretap to track down tax fraud in Guatemala leads major political scandal, VP resigns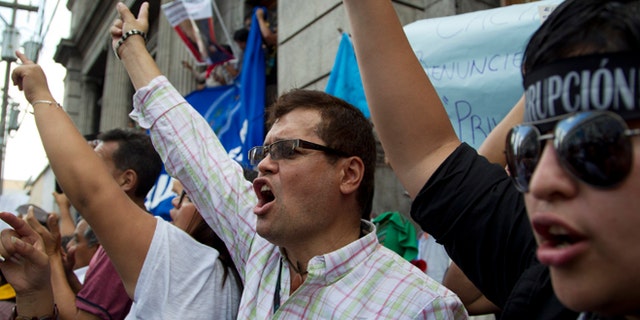 NEWYou can now listen to Fox News articles!
GUATEMALA CITY (AP) – Wiretapping that prosecutors used to track down a million-dollar fraud ring run out of the Guatemalan government have cost the vice president her job and now may lead to the Central American country's Supreme Court.
Recorded telephone calls obtained by the Associated Press show backdoor negotiating between a businessman, lawyers and suspects to pay bribes to free those detained in a scheme to defraud the state of millions of dollars in customs payments.
In a call dated April 16, clothing boutique owner Luis Mendizabal tells detainee Javier Ortíz to remain calm because he will be out soon, and mentions Supreme Court Justice Blanca Stalling Davila.
"Blanca Stalling is behind it, and they have very good communication," Mendizabal said of the behind-the-scenes negotiating to get Ortíz out of jail.
Stalling Davila told the AP late Sunday that she does not know Mendizabal, and that he could be confusing her with her sister-in-law, Marta Sierra de Stalling, also a judge, who has been implicated in the case.
"I don't know anyone related to these people," Stalling Davila said. "I don't have a reason to apply any kind of pressure nor interfere with any process."
The tax fraud scheme has rocked Guatemala's political class since it was announced in April and has become the largest corruption scandal for a sitting president, in this case Otto Pérez Molina. Former Vice President Roxana Baldetti resigned Friday and gave up her immunity from possible prosecution, a move lauded by Pérez Molina.
Baldetti's former private secretary, Juan Carlos Monzón Rojas, is alleged to have been the ringleader of a scheme to defraud the state of millions of dollars by taking bribes in exchange for lower customs duties. Monzón is a fugitive whose last known whereabouts were overseas, and he is being sought by authorities.
Baldetti was ordered by a judge not to leave the country while the investigation is ongoing. Prosecutors argue that she must have known what was going on, though she has denied any involvement.
In a separate but related case against Mendizabal and others, five lawyers were arrested on Friday for allegedly bribing a judge to free suspects jailed in the corruption case. Prosecutors and a U.N. investigative commission said the attorneys paid Judge Marta Sierra de Stalling to release three suspects on bail, including Ortíz. He was later re-arrested after authorities learned of the bribery scandal.
Sierra de Stalling has not been charged because of judicial immunity, but prosecutors have asked the Supreme Court to revoke her immunity. Prosecutors say Sierra de Stalling heard the cases against the fraud suspects rapidly and freed three ringleaders and three employees of the Tax Administration involved in the case, arguing that they were not public officials.
Authorities say the facilities of Mendizabal's clothing boutique, Emilio, were used as the hub by the fraud ring. He also is a fugitive.
In another phone call, he was told by Ruth Emilza Higueros, one of the detained lawyers, that the law firm has various lawyers working on his case with "a lot of knowledge and a lot of friends."
In the general corruption case, investigators say the fraud ring received bribes from businessmen to evade paying import taxes to the Treasury Departments. At least 50 private citizens and public officials, including Guatemala's current and former tax chiefs, are suspects in the customs scandal. Prosecutors said 27 are in custody.
Stalling Davila oversees all judicial matters on the Supreme Court that have to do with criminal cases. Her arrival to the bench was a troubled one, amid claims by civil groups that the election of judges was fraught with irregularities.
Like us on Facebook
Follow us on Twitter & Instagram