Vatican to display remains of St. Peter to public for first time
By ,
Published December 08, 2015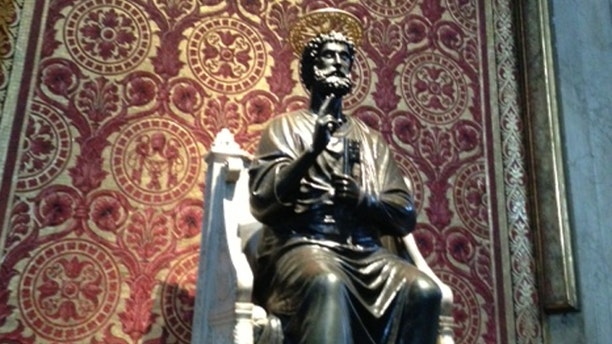 His soul may be waiting at the gates of Heaven, but the bones of St. Peter will be on display for the first time ever later this month at the basilica that bears his name, according to the Vatican.
The beloved saint's remains, discovered during excavations of the necropolis under St. Peter's Basilica in the 1940s, have stayed below ground and out of public view since their discovery - and since Pope Paul VI vouched for their authenticity in the 1960s. But top Vatican official Archbishop Rino Fisichella, who is  president of the Pontifical Council for Promoting New Evangelization, made the announcement in Monday's L'Osservatore Romano, part of News.va, the official Vatican network.
Catholic making a pilgrimage to St. Peter's tomb to mark the end of the Year of Faith will enjoy "the exposition ... of the relics traditionally recognized as those of the apostle who gave his life for the Lord on this spot," wrote Fisichella.
The unveiling, planned for Nov. 24, marks the first time St. Peter's remains -- discovered in the 1940s -- will be displayed for public view. Millions of pilgrims visit St. Peter's tomb each year inside the basilica named for him. Peter was the leader of Christ's 12 apostles and the first bishop and Pope of the Catholic Church.
His tomb was discovered near a monument constructed in the 4th century to honor him. The tomb is located under the altar of the Vatican basilica. Although the church never officially declared the bones authentic, archeological testing convinced Pope Paul VI they had been "identified in a way we can hold to be convincing."
Catholic belief holds that St. Peter was crucified upside at his own request, because he believed he was unworthy of being crucified in the same way as Jesus Christ. According to scripture, Jesus predicted at the Last Supper that Peter would deny being his follower three times before the next morning, a prophecy that came true much to Peter's shame.
St. Peter's role as gatekeeper to Heaven is believed to come from Matthew, Chapter 16, Verses 17-20, where Jesus is quoted as giving him the keys to Heaven.
https://www.foxnews.com/world/vatican-to-display-remains-of-st-peter-to-public-for-first-time