Turkey eyes visa-free travel to Europe but hurdles remain
By ,
Published May 05, 2016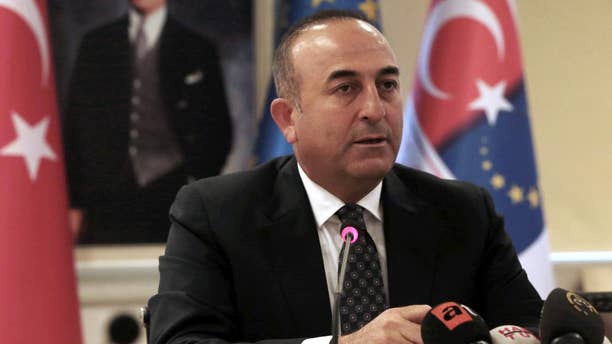 Visa-free travel to Europe may be finally within Turkey's grasp, but the remaining benchmarks it must meet by June are not easy hurdles to clear. Turkish leaders have explicitly warned the European Union that they will stop cooperating on the migrant crisis if the visa requirement isn't lifted.
The European Commission on Wednesday recommended scrapping visa requirements for Turkish citizens on condition that Turkey meets five outstanding criteria of the visa liberalization agreement.
At stake is a controversial but hard-won deal on addressing the migrant crisis which has brought more than 1 million refugees into the EU. But what if the EU decides Turkey still falls short of the 72 requirements it must meet by next month?
Turkey's progress in recent weeks could be taken as a sign that the country can up its game in a short time. By March, it had cleared only half of the requirements, but in the past two months successfully ticked off dozens of others.
But Turkey analyst Fadi Hakura said such a swift turnaround "beggars belief."
"Clearly, the European Commission has been fudging Turkey's compliance with the majority of the 72 criteria for visa-free travel in order to facilitate implementation of the EU-Turkey deal on migrants," said Hakura, of the London-based Chatham House think tank.
EU officials disagree.
"There is no free ride here, and we are clear about what remains to be done. There are five remaining benchmarks that we expect Turkey to meet by the end of June," European Commission Vice President Frans Timmermans said Wednesday.
Turkey, home to 2.7 million Syrian refugees, has agreed to crack down on smuggling networks operating in the Aegean Sea and take back any migrant who landed in Greece after March 20. In exchange, the EU offered Turkey 6 billion euros ($6.9 billion) in aid to cope with the refugee crisis within its borders, plus a series of political concessions including visa liberalization in the short term and potential EU membership in the long run.
In April, Prime Minister Ahmet Davutoglu threatened to call off the deal if visa rules aren't relaxed for Turks by June.
Europe, as a principal trading partner of Turkey and provider of three-quarters of foreign investment in Turkey, could push back but appears reluctant to do so.
"Europe has quite a lot of leverage to play on the migration question, but (German Chancellor) Angela Merkel's desperation has weakened the EU's negotiating hand vis-a-vis Turkey," Hakura said.
Merkel has been a key defender of the EU-Turkey deal, which rights groups criticize as immoral and borderline illegal.
Many point out that the outstanding criteria are substantial.
Perhaps the most problematic is the requirement to narrow the definition of terrorism. President Recep Tayyip Erdogan is advocating the opposite — he wants to expand the definition of "terrorism" and "terrorist" to include anyone who supports or lends a voice to a terrorist organization, including scholars, journalists and legislators.
Human rights groups have protested the propensity of Turkish prosecutors to level terrorist charges against government critics.
Turkey's definition of terrorism extends to Western-backed Kurdish factions fighting against the Islamic State group, Marxist radical groups which have a history of violence, and supporters of a U.S.-based Islamist cleric, Fethullah Gulen, who don't.
Even if Turkey narrows its definition of terrorism, Hakura said, the real issue will be "implementation."
The European Commission is also calling on Turkey to conclude "an operational agreement with Europol" and offer "effective judicial cooperation in criminal matters" to EU member states. Turkey is also expected to step up anti-corruption measures — no easy task when graft scandals have involved people in the president's inner circle.
The fifth requirement is ensuring that Turkey's data protection meets EU standards. The vulnerability of Turkey's data was painfully illustrated in April when the details of around 50 million citizens, roughly corresponding to the 2009 voter registry, was posted online by hackers.
Turkish officials are undaunted. Anticipating a green light, Foreign Minister Mevlut Cavusoglu said new passports featuring chips that include fingerprints will be rolled out in June. Turkey has a population of 78 million, but only a fraction hold passports and stand to benefit from the visa-liberalization deal.
EU Affairs Minister Volkan Bozkir interpreted Wednesday's decision as a sign Turkey has already met the 72 criteria and was upbeat on the likelihood of endorsement by the EU parliament and council, noting that the decision required a qualified majority, not unanimity.
"These 72 expectations are not a mathematical equation," Bozkir told reporters. "We have to assess these expectations in a political way. We believe that Turkey has accomplished its obligations concerning the 72 criteria."
___
Lorne Cook in Brussels and Suzan Fraser in Ankara contributed to this report.
https://www.foxnews.com/world/turkey-eyes-visa-free-travel-to-europe-but-hurdles-remain