Tornado won't stop Canadian man from mowing his lawn, viral photo shows
By ,
Published June 05, 2017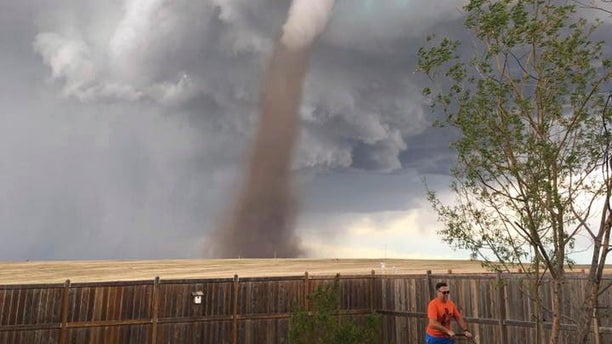 A photograph captured a brave Canadian man continuing to mow his lawn in Alberta while a tornado swirled behind him on Friday.
The stunning photograph showed a massive tornado spinning a distance away and a man, appearing unfazed, mowing his lawn.
HAVELAAR CANADA UNVEILS BISON ELECTRIC PICKUP TRUCK
Cecilia Wessels of Three Hills, Alberta, captured the moment that her husband, Theunis, continued his yardwork despite a twister whirling in the distance from their home.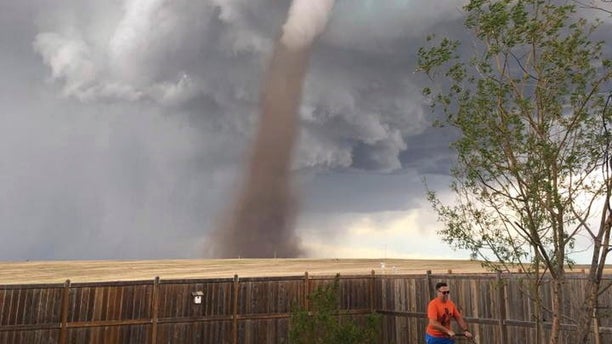 Theunis was fulfilling a few duties on the to-do list while his wife took a nap. The couple's daughter asked the brave landscaper to come inside while the tornado formed, but he refused, said Cecilia. The daughter woke up her mother after being alarmed by her dad's decision to defy the twister.
FORMER NURSE PLEADS GUILTY TO 8 MURDER CHARGES IN CANADA
"I did ask him if he was coming inside with that thing in the clouds when I turned to come inside and he calmly said no," Cecilia Wessels told The Associated Press.
"It looks much closer if you look in the photo, but it was really far away. Well, not really far, far away, but it was far away from us," Theunis told Fox 8.
"I was keeping an eye on it," he said.

No one was hurt.
The Associated Press contributed to this report.
https://www.foxnews.com/world/tornado-wont-stop-canadian-man-from-mowing-his-lawn-viral-photo-shows