The Latest: Russia says Syria evacuation to end within days
By ,
Published April 04, 2018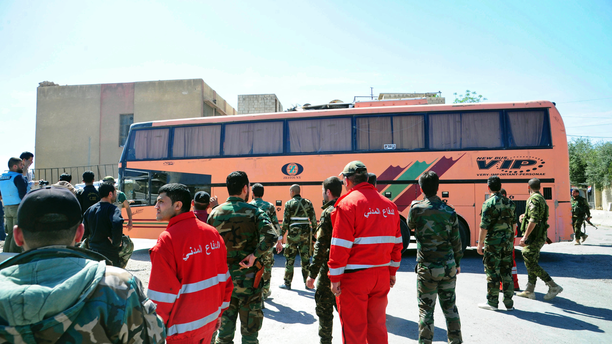 The Latest on the Syrian conflict (all times local):
11:45 a.m.
The Russian military says it expects a rebel evacuation from the suburbs of the Syrian capital to be completed in the coming days.
The Russian Defense Ministry and Syrian rebels struck a deal on Sunday for the Army of Islam, the biggest opposition group in the Damascus suburbs of eastern Ghouta, to leave the area for the rebel-controlled north.
Col. Gen. Sergei Rudskoy of the Russian General Staff told a conference on Wednesday that the rebels are still leaving the town of Douma, but he expects the evacuation to wrap up in the coming days.
The Defense Ministry said earlier Wednesday that more than 3,000 rebels and their family members have evacuated Douma since Sunday.
The evacuation comes after a blistering five-week government offensive in February and March that killed hundreds of people and caused catastrophic damage in the besieged suburbs.
___
10 a.m.
The leaders of Russia, Iran and Turkey are meeting in the Turkish capital for talks on Syria's future.
The leaders are expected to reaffirm their commitment to Syria's territorial integrity and the continuation of local cease-fires when they meet Wednesday.
The three countries have been working to try and resolve the conflict, which is now in its seventh year. Russia and Iran have provided crucial support to President Bashar Assad's forces, while Turkey has backed the rebels seeking to overthrow him.
They have sponsored a series talks in the Kazakh capital, Astana, and have set up "de-escalation zones" aimed at reducing the fighting.
https://www.foxnews.com/world/the-latest-russia-says-syria-evacuation-to-end-within-days