Shrine's custodian, aides, kill 20 devotees in Pakistan
By ,
Published April 02, 2017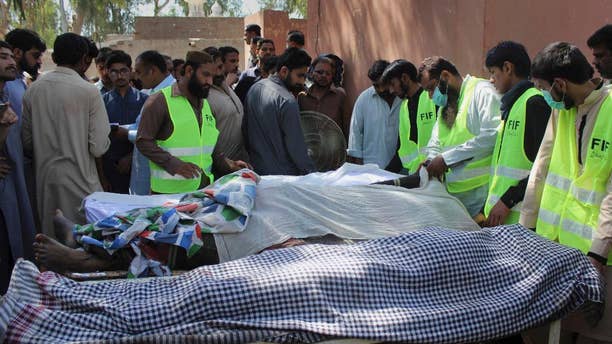 Pakistani police say the custodian of a local shrine and his accomplices have murdered 20 devotees, including four women, in eastern Punjab province.
Senior police officer Mohammad Bilal said Sunday that the shrine custodian in a village near the city of Sargodha and four others were arrested for killing worshippers with batons and knives after intoxicating them late Saturday. Bilal said another four people, including three women, remain wounded in critical condition.
Liaquat Ali Chatta, government administrator of the area, said the custodian, Abdul Waheed, and his four alleged accomplices have been arrested and the matter is being investigated. Chatta said Waheed is a government employee and seemed "mentally unstable."
Chatta said the custodian was allegedly in the practice of "beating and torturing" devotees to "cleanse" them.
https://www.foxnews.com/world/shrines-custodian-aides-kill-20-devotees-in-pakistan