Russia school shooting: At least 8 killed in attack, reports say
Footage showed dozens of ambulances lined up in front of the entrance to the school
At least eight people were killed and 21 were injured Tuesday in a shooting at a school in southwest Russia, according to reports.
Local media reported that one or more unidentified attackers opened fire at the school in the Russian city of Kazan.
Rustam Minnikhanov, governor of the Tatarstan republic, said four boys and three girls -- all eighth-grade students -- died in the attack. Minnikhanov's press service later added that a teacher was also killed.
BIDEN ADMIN FACES LACK OF ICEBREAKERS, INCREASING RUSSIAN AND CHINESE THREATS IN ARTIC
"The terrorist has been arrested, (he is) 19 years old. A firearm is registered in his name. Other accomplices haven't been established, an investigation is underway," Minnikhanov said after visiting the school on Tuesday.
Earlier, Russia's state RIA Novosti news agency reported that 11 people were killed in the shooting, citing local emergency officials.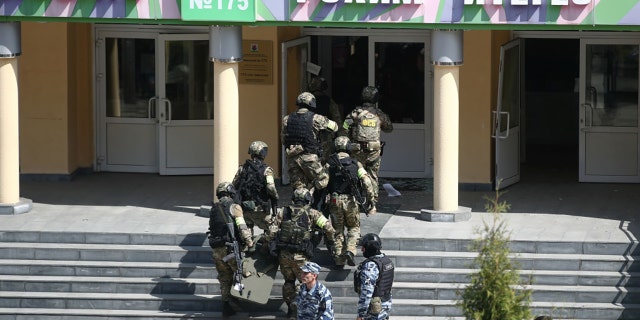 At least 21 people were hospitalized after the shooting, including 18 children, according to Tatarstan health officials. They added that six of the children hospitalized were in intensive care.
Videos posted on social media appeared to show people jumping out of windows to apparently escape the shooting.
BLINKEN ASSURES UKRAINE DURING HIGH-PROFILE VISIT
Footage also showed dozens of ambulances lined up in front of the entrance to the school.
School shootings in Russia are rather rare. However, in recent years there have been several violent attacks on schools, mostly carried out by students.
CLICK HERE TO GET THE FOX NEWS APP
Kazan is a city located on the banks of the Volga and Kazanka rivers in southwest Russia.
The Associated Press contributed to this report