Romney, Obama Move Over - Latinos Ready for Latino President, Poll Says
By Bryan Llenas, ,
Published January 10, 2017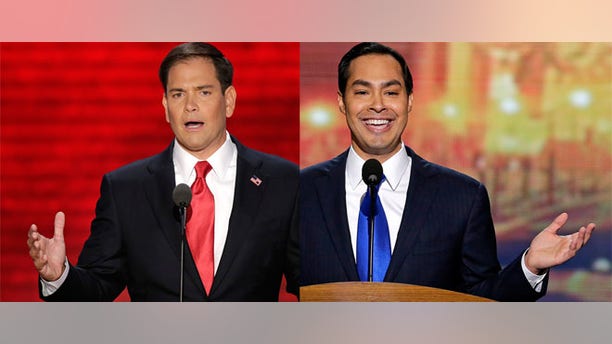 The majority of Latinos believe the United States is ready to elect a Hispanic president, but there are still some reservations about the prospect of it happening during this generation, according to an exclusive Fox News Latino poll released this week.
The poll, which surveyed 887 likely Latino voters, found that 48 percent believe the U.S. would have been ready to elect a Latino president this year, male or female, compared to 40 percent who said no and 12 percent who are undecided.
Of the 40 percent who said the U.S. was not ready to elect a Latino, 42 percent believe the nation will be ready during the next generation, 26 percent said more than two generations from now, and 24 percent of likely Latino voters believe it will happen during this generation.
How the Poll was Conducted:
The poll was conducted between the 11th and 13th of September among a random sample of 887 likely Latino voters across the country. The margin of sampling error is three percentage points.
Arlene Davila, Professor of Anthropology at New York University, is skeptical of polling data, but is surprised the majority of Latinos believe the United States is ready for president like them.
"Just look at the incredible and very real anti-Latino climate right now," Davila said. "We [Americans] are not even at the point where we can imagine Latinos as Americans without any hesitation or questions."
Davila referenced the "rampant and racist" anti-illegal immigration legislation, which  she refers to as "anti-immigrant" policies, that have swept the country in states like Arizona, Alabama, and Georgia as the primary reason Latinos should be beyond skeptical at the prospect of holding the nation's highest office right now.
Democrats and immigration activists say the Republican party is to blame for the stringent tone on immigration.
But Rachel Campos Duffy, a Republican and member of the Women for Mitt committee, finds it outrageous to blame the conservative right for the anti-Latino sentiment.
"That's the most ludicrous thing I have ever heard," she said. "Our party is a merit-based party and if a good candidate came over, like [New Mexico Governor] Susana Martinez or [Florida Senator] Marco Rubio, I have no doubt that they would receive the nomination."
We [Americans] are not even at the point where we can imagine Latinos as Americans without any hesitation or questions.
Of those majority who believe the United States is ready for a Latino president, 52 percent are Republican, according to the Fox News Latino poll, and 45 percent are Democrat. Of the 40 percent who believe the U.S. is not ready for a Latino president, 43 percent are Democrat and 37 percent are Republican.
The importance of a candidate's ethnic makeup in a presidential election was thrown into the spotlight recently after the release of a secret video from left-leaning magazine Mother Jones. The video shows former Massachusetts Governor Mitt Romney jokingly telling donors at a private fundraiser he'd have a better shot at winning the election if his parents were Mexican.
"When one considers that every single Hispanic governor in the country is a Republican, that every single Hispanic who was elected to the U.S. House in the last cycle is a Republican, and that Senator Marco Rubio is one of the stars that shines brightest in our party, it is easy to understand why the Governor would want to share the spotlight with them," said Yohana De La Torre, a spokesman for the Romney campaign.
At the same dinner, Romney also gave Rubio, who was on his short list for vice president, high praises.
This year, Latinos had unprecedented prominence in both the Republican and Democratic national conventions.
Rubio gave the keynote address at the Republican National Convention, which featured a star-studded lineup of Latino conservative politicians.
Most notably for Democrats, San Antonio Mayor Julian Castro became the first Latino to deliver the keynote address for the DNC, evoking visions of a possible Democratic presidential nominee in 2016. Castro, however, told Fox News Latino he plans to be mayor for many, may years to come - even if there was at the time a #juliancastro2016 Twitter hashtag.
Regardless, the prospects of one day electing the nation's first Latino president have, arguably, never been better.
Latinos are growing in power and influence. Census numbers show there are 52 million Hispanics in the U.S. and, at more than 16 percent of the nation's total population, they are the nation's largest minority.
Still, those who believe a Latino could be elected this year point to the historic win for Barack Obama, the nation's first African-American to be elected president.
Cid Wilson, a Democratic New Jersey delegate and a black Dominican-American, said Obama's election  is proof that the general electorate is ready to vote for a Latino president.
"The majority of Americans are going to judge the candidate based on their platform," he said, adding that "you are always going to have fringe groups that, for whatever reason, will not support Latinos for being Latino."
Davila, who specializes in Latino culture, is not so optimistic.
"We haven't even had a woman presidential candidate," Devila said. "[Latinos] have a ton of catching up to do."
Follow Bryan Llenas on Twitter @Bryan_Llenas.
Follow us on twitter.com/foxnewslatino
Like us at facebook.com/foxnewslatino
https://www.foxnews.com/world/romney-obama-move-over-latinos-ready-for-latino-president-poll-says