Putin sees Russian weapon capabilities as superior to any would-be aggressor
By Bradford Betz
Published October 19, 2018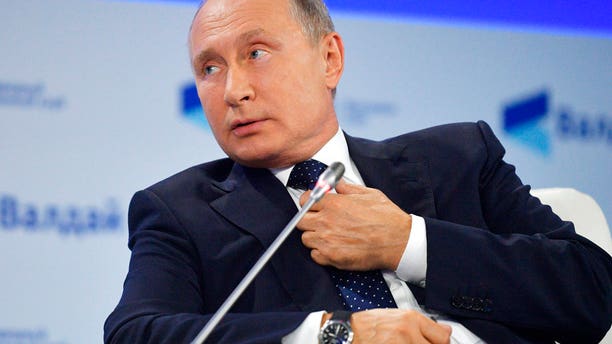 Russian President Vladimir Putin on Thursday promised that his country would not initiate a nuclear attack on any country, but his superior firepower would kill any aggressor without giving any "time to repent."
Putin made the comments at an international policy forum in Sochi. He said Russia has no intention to initiate a "preventive strike" but any would-be aggressor "will be destroyed."
"Only when we become convinced that there is an incoming attack on the territory of Russia, and that happens within seconds, only after that we would launch a retaliatory strike," Putin said.
US OFFICIALS REBUT PUTIN HOSTAGE CLAIMS: 'FAKE NEWS' 
"We would be victims of an aggression and would get to heaven as martyrs," while the aggressors would "just die and not even have time to repent," he said.
Putin cautioned that Russia's new "hypersonic missiles" have given it a competitive edge over other countries, whereas he said other countries are one-and-a-half to 2 years behind the curve.
Russia's Kinzhal hypersonic missile has already been deployed and another weapon -- the intercontinental Avangard -- is poised for deployment in the next few months. Putin said the Avangard is capable of flying at 20 times the speed of sound and can strike any missile defense system.
Not in every country are people so eager to sacrifice their lives for the Motherland.
Putin also criticized what he sees as Russian fear-mongering in the U.S., calling it a "convenient instrument for solving internal political problems."
"I hope it will go away," he said. "I don't know if it happens after the congressional elections, but it might. Or it might happen after the 2020 U.S. presidential election, when [President Trump] will no longer have to constantly look back at those who engage in anti-Russian rhetoric."
RENEWED PUSH FOR RUSSIA RECORDS IN ADVANCE OF PAPADOPOULOS TESTIMONY
Putin reiterated that with Russia's defense resources, its "people [are] ready to defend sovereignty and independence."
"Not in every country are people so eager to sacrifice their lives for the Motherland," he said.
https://www.foxnews.com/world/putin-sees-russian-weapon-capabilities-as-superior-to-any-would-be-aggressor