Pope praises 'unruly' deaf child after he climbed on stage to play: 'This child preaches to all of us'
By Caleb Parke
Published November 28, 2018
Pope Francis used a child's playfulness as an opportunity to speak on freedom and following Jesus to those in attendance after a young, deaf boy ran onstage during the pontiff's general audience Wednesday.
When six-year-old Wenzel Wirth ran out to the front of the Vatican audience hall, the Swiss Guards and Vatican gendarmes stood by as monsignors read out the pope's catechism lesson in various languages, but his Argentine-Italian mother rushed to retrieve him, explaining to Francis that her son couldn't speak.
"Let him be, let him be," Francis told her while the young boy ran around a little longer, tugging on the gurad's hand and playing behind pope. As the mother left the stage, a smiling Francis, who is from Argentina, leaned towards Bishop George Ganswin sitting next to him and whispered: "He is Argentinian. Undisciplined."
POPE FRANCIS LEADS VATICAN SUMMIT ON ABUSE SCANDAL, OKS PROBE OF AMERICAN BISHOP ACCUSED OF SEX HARASSMENT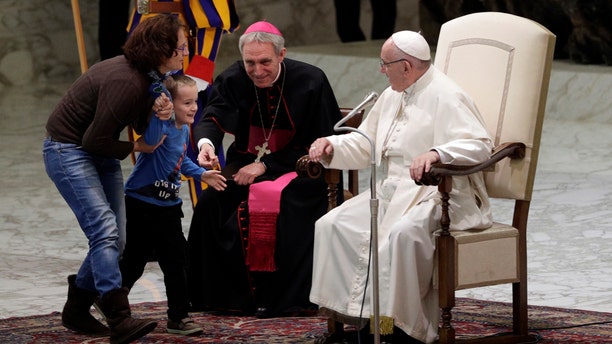 When Francis took to the microphone, he used the child as a lesson for the audience.
"This child cannot speak. He is mute, but he can communicate, and he has something that got me thinking: he's free. Unruly…but he is free," Francis added to laughter.
"It made me think, 'Am I so free before God?'" the pope added.
"When Jesus says we have to be like children, it means we need to have the freedom that a child has before his father," Francis continued. "I think this child preaches to all of us. And let us ask for the grace of speech (for him)."
POPE TO MEET WITH HEAD OF US BISHOPS' CONFERENCE OVER SEX ABUSE, COVER-UP SCANDAL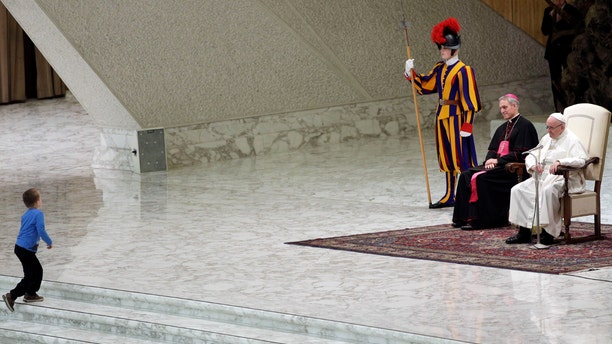 The boy's father, Ariel, said his son suffers from behavioral problems as well as speech limitations, adding that the family from Verona came to Rome and told their son he would get to see the pope.
"It was not planned," he explained to the Associated Press. "We try to let him be free. He has to express himself, and we live without hiding his problems."
https://www.foxnews.com/world/pope-praises-unruly-deaf-child-after-he-climbed-on-stage-to-play-this-child-preaches-to-all-of-us