Pope Betting Madness: Bets Pour in for Shot at Heavenly Prizes
By Bryan Llenas, ,
Published January 10, 2017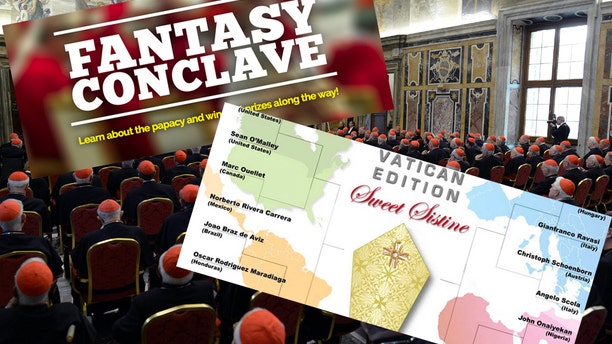 Foreign bookers are betting you are willing to put your money where your faith is.
Two hours following the resignation of Pope Benedict XVI , websites like the Irish bookmaker Paddy Power began taking bets on who the next pope will be and after just two weeks they've taken in a "heavenly" 350,000 Euros, or $454,545.
"Pope betting' [is] firmly on track to become the largest non-sporting market in the bookmaker's history," a Paddy Power press release said.
If you're a fan of college basketball and don't want to spend money, the Religion News Service has created their own version of the March Madness Bracket. Fill out "The Sweet Sistine" bracket with the top candidates from each continent. The website allows you to choose the best candidate in rounds, and has seen over 12,000 responses thus far.
Another site, sinfully named fantasyconclave.com, is free for contestants and is not a gambling website. They say the prizes are sponsored by eCatholic, flocknote, and Catholic student ministry. The more people sign up to play the more the prize pool will increase. As of Friday – that number was $300. Site organizers point out this isn't betting and they merely want to promote Papal education to Catholics and non-Catholics alike - so if you sign up expect to get emails with Pope Facts.
It's illegal in the United States to bet on elections – even for the pope. But Paddy Power's spokesman Rory Scott thinks the cash pot will grow to $7 million. Paddy Power, the biggest bookmaker in Ireland, was founded in 1988.
Betters can wager on things like who will be the next pope, when the conclave will start, the number of ballots held, the country of the next pope and the length of the papal conclave.
It also seems like Americans are voting with their hearts, not necessarily their minds. The site says they have seen an "unusually high" proportion of bets for American candidates with long odds. Boston's Cardinal Sean O'Malley and Cardinal Timothy Dolan have had their odds drop significantly from 125/1 to 40/1 and from 80/1 to 33/1, respectively.
Currently Cardinal Peter Turkson of Ghana has the best odds of winning at 5/2, followed by Archbishop Angelo Scola of Italy at 11/4, and another Italian Cardinal Tarcisio Bertone at 4 to 1. Experts and observers believe Turkson has a real shot of becoming the first African-American pope as well as the first pope from a developing world chosen in the conclave.
The same has been said about the odds of the College of Cardinals choosing the world's first Hispanic pope, mainly because Latin America is home to the largest population of Catholics in the world – making up 41 percent of the world's 1.2 billion Catholics.
The Irish bookmaker has Cardinal Leonardo Sandri of Argentina ninth on their list at 16/1 and Cardinal Odilo Scherer of Brazil at 25/1.
Betting on who will be pope, the duration of a pontificate, or the creation of new cardinals used to be punishable by excommunication under Canon Law during the pontificate of Pope Gregory XIV. Currently there is no canon law on conclave wagers.
https://www.foxnews.com/world/pope-betting-madness-bets-pour-in-for-shot-at-heavenly-prizes