Palestinians back Abbas on settlement slowdown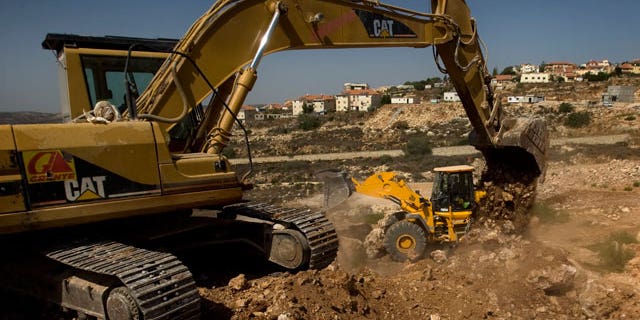 NEWYou can now listen to Fox News articles!
RAMALLAH, West Bank – Dozens of senior Palestinians on Saturday backed President Mahmoud Abbas' refusal to negotiate with Israel as long as it builds in West Bank settlements, dealing a new setback to troubled U.S. efforts to salvage peace talks.
Israel refuses to extend a 10-month-old curb on settlement construction, while Abbas says there is no point in negotiating as long as settlements eat up more of the land the Palestinians want for a future state.
The Obama administration has said it will keep pushing to find a solution to the impasse, and U.S. envoy George Mitchell is now scrambling to enlist the help of Arab leaders to rescue the negotiations. The Palestinians' final decision on whether to quit the talks is expected at an Arab League summit next weekend.
However, Saturday's unanimous decision by dozens of senior members of the Palestine Liberation Organization and Abbas' Fatah movement makes compromise increasingly unlikely. "The Palestinian position is clear," senior Abbas aide Nabil Abu Rdeneh said after the three-hour meeting at Abbas' headquarters. "There will be no negotiations as long as settlement building continues."
Israeli Prime Minister Benjamin Netanyahu is equally adamant about not extending the curb on settlement construction, and reiterated as recently as Friday that he would not budge. On Saturday, he urged Abbas not to quit the talks.
The Palestinian stance appears puzzling at first glance.
President Barack Obama is seen by many here as more evenhanded in handling the Mideast conflict than his predecessors, and he has promised to push for a deal on Palestinian statehood within a year. Ostensibly, the Palestinians are risking the big prize — statehood — for the lesser goal of a settlement freeze during negotiations.
However, Palestinians deeply mistrust Netanyahu, a longtime hard-liner, and consider his refusal to halt settlements as proof of his true intentions. Veteran negotiators say they deeply regret not having insisted on a settlement freeze when talks first began 17 years ago; since then the number of Israelis moving to war-won lands claimed by the Palestinians has tripled, to half a million.
Palestinians also question how the U.S. expects to broker agreement on such charged issues as the partition of Jerusalem if it can't get Israel to comply with an internationally mandated settlement freeze.
"The Americans didn't exercise any kind of pressure on the Israelis," said Hanan Ashrawi, a senior PLO member who participated in Saturday's meeting. "The Israelis hijacked the process. He (Netanyahu) thumbed his nose at the Americans."
Officials in Netanyahu's office declined comment Saturday. However, the prime minister has said he is serious about reaching a deal within a year and has accused the Palestinians of wasting precious time over secondary issues.
Israel's main opposition party, Kadima, called on Netanyahu on Saturday to make decisions that will enable the talks to continue. "The breakup of the talks will have severe implications for Israel," Kadima said in a statement. "Netanyahu must choose the true long-term interests of Israel over any personal political interests."
Israeli Defense Minister Ehud Barak, a centrist, said he hoped a compromise could be found in the coming week.
Palestinian leaders will now begin to study alternatives, should talks collapse, and step up efforts to reconcile with the Islamic militant Hamas, said Mohammed Dahlan, a senior Fatah member. One frequently mentioned possibility is to ask the U.N. Security Council to unilaterally declare a Palestinian state in the West Bank, Gaza and east Jerusalem, captured by Israel in the 1967 Mideast War.
In Gaza, Hamas leader, Ayman Taha, said he was not surprised by the impasse. Hamas, which seized control of Gaza by force from Abbas in 2007, has repeatedly called on the Palestinian leader to quit the talks. "These are futile negotiations," said Taha.
In Tehran, visiting Syrian President Bashar Assad accused Obama of using the negotiations for domestic political gains.
"The talks are only aimed at supporting Obama's position inside the U.S," Assad said in his first public comments about the negotiations since they were launched in Washington a month ago. Assad and his host, Iranian President Mahmoud Ahmadinejad, pledged to support "resistance" in the region, an apparent reference to Palestinian militants and others opposing Israel. Iran and Syria are key sponsors of Hamas and the Shiite militant group Hezbollah in Lebanon.
Elsewhere in the region, White House envoy Mitchell met with Qatari leaders on Saturday, and then held talks in Cairo with senior Egyptian officials, including Intelligence Chief Omar Suleiman and Foreign Minister Ahmed Aboul Gheit.
Afterward, Egypt's Foreign Ministry spokesman Hossam Zaki said Suleiman and Aboul Gheit told Mitchell that Cairo supports the Palestinian position linking the negotiations with the Israeli halt to settlement activities.
___
Associated Press writer Mohammed Daraghmeh contributed to this report from Ramallah.