Opening of talks with Colombia's No. 2 rebel group delayed
By ,
Published October 27, 2016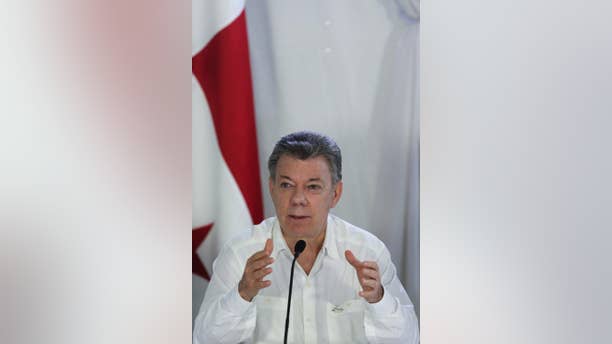 Colombia's president has ordered his negotiating team to delay its departure for Ecuador's capital to open peace talks with the country's No. 2 rebel group.
President Juan Manuel Santos says the National Liberation Army, or ELN, must first free a former congressman it has held captive for six months.
The delay may be a matter of logistics. Chief government negotiator Juan Camilo Restrepo says the Red Cross has informed authorities that operations have begun to receive the ex-congressmen, Odin Sanchez.
The talks' opening had been planned for Thursday in Quito.
They come amid deep uncertainty over the narrow electoral defeat in an Oct. 2 referendum of a peace pact with Colombia's main rebel group, the FARC. Negotiators from both sides are in Cuba trying to salvage that pact.
https://www.foxnews.com/world/opening-of-talks-with-colombias-no-2-rebel-group-delayed