North Korea: War an 'established fact' due to Trump's 'confrontational warmongering'
By Katherine Lam, ,
Published December 07, 2017
An "outbreak of war" on the Korean peninsula is "an established fact," North Korea said Wednesday, issuing its most stark assessment of the current crisis after Pyongyang's recent intercontinental ballistic missile test and the ongoing joint military exercise between the United States and South Korea.
The warning came hours after a B-1B supersonic bomber flew over the Korean peninsula as a show of force against Kim Jong Un's regime.
"The large-scale nuclear war exercises conducted by the U.S. in succession are creating touch-and-go situation on the Korean peninsula and series of violent war remarks coming from the U.S. high-level politicians amid such circumstances have made an outbreak of war on the Korean peninsula an established fact," an unnamed Foreign Ministry spokesman said through the state's Korean Central News Agency. "The remaining question now is: when will the war break out."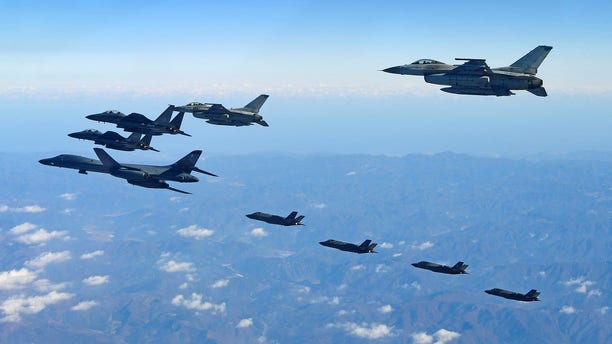 The Foreign Ministry spokesman cautioned North Korea does "not wish for a war but shall not hide from it." He accused the U.S. of miscalculating the Hermit Kingdom's patience and lighting "the fuse for a nuclear war."
"We will surely make the U.S. dearly pay the consequences with our mighty nuclear force which we have consistently strengthened," the spokesman said.
The U.S. and South Korea continued their annual "Vigilant Ace" drills Wednesday in a show of force. A B-1B flew from U.S. territory Guam to South Korea -- but it was only one of the two bombers supposed to head toward the peninsula. The second bomber reported maintenance issues while taxiing to the runway for takeoff, an Air Force officer said.
"Through the drill, the South Korean and U.S. air forces displayed the allies' strong intent and ability to punish North Korea when threatened by nuclear weapons and missiles," the South Korean military said in a statement.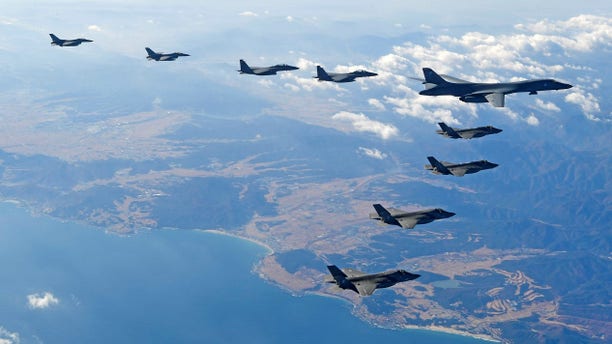 The five-day drills began Monday and included more than 230 aircraft, including six F-22 and 18 F-35 stealth fighter jets.
Even before the drills began, North Korea issued a series of missives, insisting the annual exercise brought the countries closer to a nuclear war.
White House national Security Advisor HR McMaster told Fox News Sunday: "If necessary, the president and the U.S. will have to take care of it, because he has said he's not going to allow this murderous rogue regime to threaten the U.S."
https://www.foxnews.com/world/north-korea-war-an-established-fact-due-to-trumps-confrontational-warmongering