New Brexit referendum? UK's Labour Party ponders supporting the idea
By Christopher Carbone, ,
Published September 23, 2018
As talks between the U.K. and Europe to negotiate the country's exit from the European Union have stalled, Britain's Labour Party may hold the fate of Brexit in its hands.
A number of Labour members think the left-of-center opposition party has not only the power, but a duty, to force a new referendum that could reverse Britain's controversial decision to leave the 28-nation bloc.
Labour's leadership has long opposed that idea, and a showdown on the issue looms at the party's annual conference that begins Sunday in Liverpool.
Labour leader Jeremy Corbyn said Sunday that he would prefer an election rather than a referendum, but added: "Let's see what comes out of conference."
"Obviously I'm bound by the democracy of our party," Corbyn told the BBC.
THERESA MAY WARNS EU SHE WILL NOT OVERTURN BREXIT REFERENDUM AFTER BLOC REJECTS DEAL 
Ever since Britain voted in 2016 to leave the EU, Labour has said it will respect the result, though it wants a closer relationship with the bloc than the one Prime Minister Theresa May's Conservative government is seeking.
Now, with divorce negotiations stuck and Britain due to leave in March, many Labour members think the party must change course.
"Labour have to come to a decision. The time has gone for sitting on the fence," said Mike Buckley of Labour for a People's Vote, a group campaigning for a new referendum.
More than 100 local Labour associations have submitted motions to the conference urging a public plebiscite, with a choice between leaving on terms agreed by the government or staying in the EU.
Party chiefs will decide Sunday, the first day of the four-day conference, which motions will be up for debate and votes.
Corbyn — a veteran socialist who views the EU with suspicion — has long been against holding a second public vote on Brexit, though his opposition appears to be softening.
Corbyn told the Sunday Mirror newspaper that, if Labour's conference "makes a decision, I will not walk away from it."
Deputy leader Tom Watson was even firmer.
"We must back it if Labour members want it," he told The Observer newspaper.
Still, Labour faces a major political dilemma over Brexit. Most of the party's half a million members voted in 2016 to remain in the EU, but many of its 257 lawmakers represent areas that supported Brexit.
"For Labour to adopt a second referendum policy would spell political disaster in all those Labour seats that voted leave," said Brendan Chilton of the pro-Brexit group Labour Leave.
Since the 2016 referendum, Labour has stuck to a policy of "constructive ambiguity" in a bid to appeal to "leave" and "remain" voters alike. The party opposes May's "Tory Brexit" but not Brexit itself. It calls for Britain to leave the EU but remain in the bloc's customs union with "full access" to the EU's huge single market.
Pro-EU party members, including many Labour lawmakers, say that is both vague and unachievable as long as Labour remains in opposition.
IRAN SUMMONS WESTERN DIPLOMATS OVER PARADE ATTACK KILLING 25
The Conservative government's blueprint for future trade ties with the bloc was rejected last week by EU leaders. That left May's leadership under siege and Britain at growing risk of crashing out of the EU on March 29 with no deal, something that many analysts believe could precipitate a financial crisis for the U.K.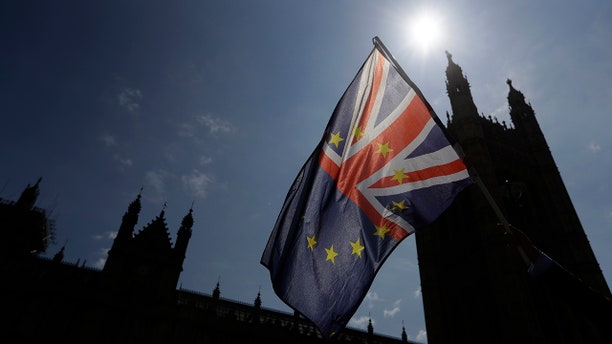 Andrew Adonis, a Labour member of the House of Lords who supports holding a second referendum, said Labour can't sit on the sidelines while the country staggers toward political and financial chaos.
"This is as big a crisis as I can remember in my lifetime," Adonis said. "And no one has a clue at the moment what is going to happen."
Brexit is one of several challenges facing Corbyn, who heads a divided party. He has strong support among grassroots members, many of whom have joined since he was elected leader in 2015. But many Labour lawmakers think his old-fashioned socialism is a turnoff for the wider electorate.
If Corbyn does back a second Brexit referendum, he will be going against his long-held euroskepticism. Labour backed the "remain" side during the 2016 referendum, but Corbyn's support was lukewarm.
"Jeremy Corbyn is a Brexiteer and always has been," said Chilton of Labour Leave.
"More and more people now support us leaving the European Union and getting on with it," he said. "They don't want to re-fight the referendum. They don't want to open up old wounds."
The Associated Press contributed to this report. 
https://www.foxnews.com/world/new-brexit-referendum-uks-labour-party-ponders-supporting-the-idea