Mother of American detainee in North Korea ends her visit, says her heart is broken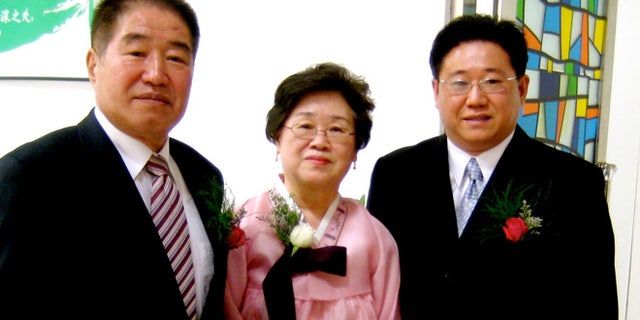 SEOUL, South Korea – The mother of an American detained in North Korea says it broke her heart to leave him behind after visiting him there, and urged the U.S. government to do everything it can to secure his freedom.
Myunghee Bae said in a statement Monday that she saw her son Kenneth Bae, a Korean-American missionary and tour operator held in North Korea since last November, at a hospital three times after arriving in the country on Friday.
She said she was relieved to see her son's health has been improving, and that the two were able to spend "those precious hours together." But she said she is "more anxious than ever to bring him home."
"His yearlong imprisonment has taken a heavy toll not only on Kenneth but on the whole family; every day the pain and anxiety continue to carve a deep scar on all of our hearts," she said. "I plead with our government to do everything in their power to secure my son's release soon."
The statement was published on a website called "Free Kenneth Bae." Derek Sciba, a media contact for the website who is a friend of Kenneth's sister, Terri Chung, said the handwritten statement was emailed from Myunghee Bae's Gmail account to Chung, who confirmed that it was from her mother.
Kenneth Bae, 45, was sentenced to 15 years of hard labor after being arrested in November for alleged hostile acts while leading a group of tourists in the northeastern region of Rason. He was transferred over the summer from a prison camp to the hospital because he had lost more than 50 pounds. His family has said Bae suffers from diabetes, an enlarged heart, liver problems and back pain.
Bae is at least the sixth American detained in North Korea since 2009. The other detainees were eventually deported or released without serving out their terms, some after prominent Americans including former Presidents Bill Clinton and Jimmy Carter visited Pyongyang.
Analysts say North Korea has used American detainees to bolster its hand in standoffs with the United States over its nuclear and missile programs.