More than 2 dozen dead after rainstorm hits Beijing
By ,
Published December 04, 2015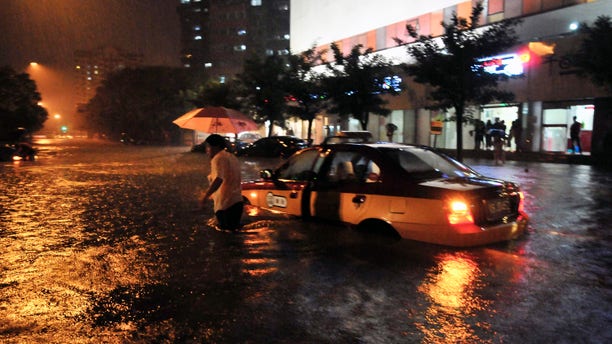 Officials have raised the death toll to at least 37 in the heaviest rain storm to hit Beijing in six decades. Dozens of other storm deaths have been reported elsewhere in China.
The rain Saturday night knocked down trees in Beijing and trapped cars and buses in waist-deep water in some areas. A statement from the city government late Sunday said 25 people drowned, six were killed when houses collapsed, one was hit by lightning and five were electrocuted by fallen power lines.
The official China Daily newspaper reported Monday rain and flooding caused damages of at least 10 billion yuan ($1.6 billion), with 60,000 people evacuated from their homes.
Elsewhere, six deaths were reported in Sichuan province, four in northern Shanxi province and eight in neighboring Shaanxi province.
https://www.foxnews.com/world/more-than-2-dozen-dead-after-rainstorm-hits-beijing