Man crushed to death by elephant after whipping it to sit down during a bath
By Anna Hopkins
Published March 05, 2019
A man was crushed to death by an elephant in his care after he beat it with a stick to make it sit down while washing it, only for it to slip in its bath water.
Just before the death of Arun Panikkar, 40, video shows him whipping the animal so hard to make it sit down that he appears to lose his balance and slip. The elephant then sits down directly on top of him. He was killed instantly at the animal housing site located in Kerela, Southern India.
Another caretaker then runs to Panikkar's rescue, also whipping the animal to attempt to make it stand up, which takes some time. When the animal stands up, it appears to have Pannikar's blood on his back.
MORE THAN 700 DOGS RESCUED FROM 'EXTREME HOARDING CONDITIONS' AT ATLANTA PUPPY MILL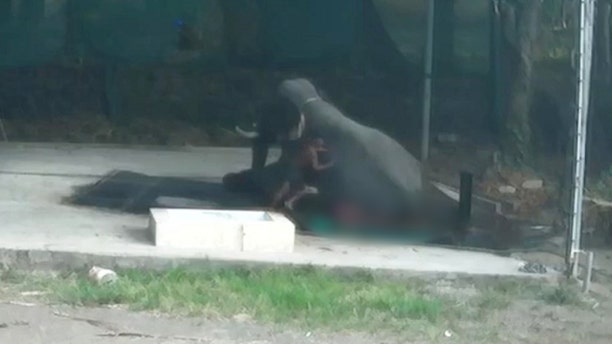 ELEPHANTS HAVE BAD NEWS FOR POACHERS: WE EVOLVED
The other caretaker is then seen attempting to pull Panikkar's body out from under the elephant, but unfortunately, it was too late.
Later investigation showed that Panikkar's skull was crushed by the animal resulting in his immediate death, the Daily Mail reports.
CLICK HERE FOR THE FOX NEWS APP
An investigation is now being launched into the animal's care, as it was reportedly owned by a local hospital trust.
https://www.foxnews.com/world/man-crushed-to-death-by-elephant-after-whipping-it-to-sit-down-during-a-bath