Muslim man stabbed at London mosque: reports
An elderly Muslim was stabbed while praying at one of London's biggest mosques Thursday afternoon and a 29-year-old man was arrested on suspicion of attempted murder, authorities report.
The victim, who is in his 70s and is the mosque's muezzin, the person who calls Muslims to pray, was attacked at London Central Mosque near Regent's Park just after 3 p.m, according to police. He was taken to a hospital, where his injuries were determined to be "not life-threatening."
GERMAN HOOKAH SHOOTING SUSPECT ID'D AS RIGHT-WING EXTREMIST: POLICE REPORT 
The Metropolitan Police said it was not terror-related.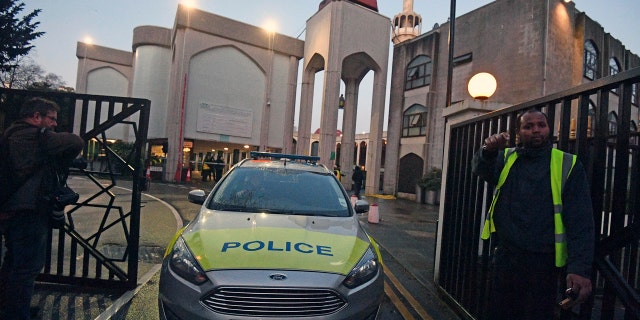 Images apparently from the scene posted on Twitter show police holding down a man wearing a red jumpsuit on the mosque floor.
"He was praying behind him and then he stabbed him," Abi Watik, a witness, said. "We were shocked. We didn't know what happened. We saw the guy on the floor and blood on his shoulder and the knife on the floor."
London Mayor Sadiq Khan said on Twitter that he was "deeply concerned by this incident at London Central Mosque. Every Londoner is entitled to feel safe in their place of worship & I want to reassure London's communities that acts of violence in our city will not be tolerated."
CLICK HERE TO GET THE FOX NEWS APP
Prime Minister Boris Johnson tweeted that he was "deeply saddened to hear of the attack at the London Central Mosque."
"It's so awful that this should happen, especially in a place of worship," Johnson wrote. "My thoughts are with the victim and all those affected."
On Wednesday, a "far-right extremist" shot and killed nine people at a hookah bar in Germany.
The Associated Press contributed to this report.