London Bridge attack suspect shot and killed by British police after stabbing: report
British police shot and killed a suspected terror attacker Friday on the London Bridge -- a harrowing incident that left two people dead and several others injured around the key thoroughfare that had been the site of a deadly Islamist attack just over two years ago.
Two members of the public, separate from the attacker, were killed in the assault, the BBC reported, citing government sources. British police said three others were being treated at a hospital.
The suspect was wearing a fake explosive vest and had been tackled by members of the public before being shot by London police, officials said. British media outlets including the BBC and Sky News said the attacker was an ex-prisoner with links to Islamic extremist groups, but officials would not confirm those details.
At least five people were injured in the incident, although it was unclear what the injuries were and how many may have been caused by the terrorist. Scotland Yard said earlier that first responders raced to "a stabbing at premises near to London Bridge" just before 2 p.m. local time.
One of the injured was seen being held by police after the attack, while the BBC had reported two others were in serious condition.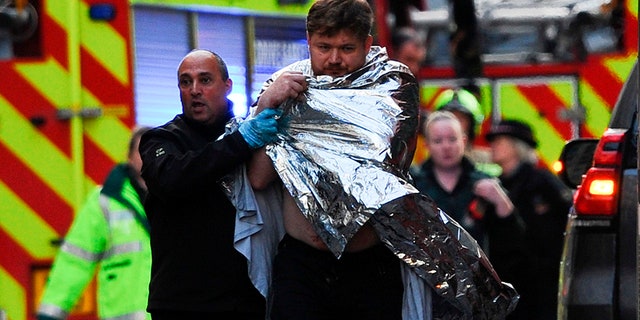 Initial reports suggested the suspect was wearing a suicide vest, however, it was later believed to be a hoax device, Commissioner Neil Basu said during a news conference.
The area remained sealed by police for safety reasons.
"Due to reports that the suspect may have had an explosive device, specialist offices also attended the scene and wide cordons are in place to ensure there remains no further danger to the public," Basu said. "However, I can confirm at this time, we believe a device that was strapped to the body of the suspect is a hoax explosive device. Officers continue to carry out meticulous searches in the area to ensure there is no outstanding threat to the public."
The lockdown and fears of an explosive device caused a mass panic, with those nearby running or searching for shelter.
"I was shopping in the area when they started to cordon it off. There was panic in the market and people started running. I saw two people fall over," a woman identified as Jo, from East London, told The Guardian. "I was walking down a side street trying to leave the area when all of a sudden people started running. The police then told people to get inside, so we sheltered in Le Pain Quotidien. They locked the doors and moved people away from the glass. The police has just let us leave."
Prime Minister Boris Johnson said he was "being kept updated on the incident at London Bridge and want to thank the police and all emergency services for their immediate response."
He added that the incident has been contained to the best of his knowledge.
"To the best of our knowledge the incident has been contained," he said. "But I would urge everybody, of course, to be to be vigilant and one cannot help but think back to what happened in 2017 in the same part of the city, and I hope very much that people will be able, as fast as possible to go about their normal business."
Labour leader Jeremy Corbyn thanked police and emergency services for their response during the crisis.
"Shocking reports from London Bridge. My thoughts are with those caught up in the incident. Thank you to the police and emergency services who are responding," he said.
Corbyn said they were suspending campaigning tonight in London to show respect for those impacted by the attack.
National Rail announced that the London Bridge station had reopened after closing earlier in the day.
The London Bridge area was the scene of a terrorist melee on June 3, 2017. Islamic terrorists used a dual vehicle ramming and stabbing attack. Eight civilians died and four police officers were injured in the assault. All three terrorists were also killed.
The incident comes as the national terrorist level was lowered from "severe" to "substantial" this month, according to The Guardian.
In 2017, following a New York City explosion that injured 29, London Mayor Sadiq Khan announced that terror attacks were "part and parcel of life in a big city."
"It is a reality I'm afraid that London, New York, other major cities around the world have got to be prepared for these sorts of things," he added.
Khan also released a statement on Friday regarding the London Bridge incident.
Around the same time as Friday's incident was occurring, intelligence sources told Fox News that Islamic State (ISIS) propagandists distributed a set of images that purportedly documented ISIS supporters in Azerbaijan pledging allegiance to the group's new "caliph" in hiding. It is likely the images are stills from a video produced by that group of ISIS supporters.
The photos appeared to be attributed to an ISIS media office in Azerbaijan, suggesting the group is conveying to members and supporters that it has established a new "province" in the country.
It wasn't immediately clear if the London Bridge attack on Friday was carried out by someone in the name of the shrinking terror outfit.
CLICK HERE TO GET THE FOX NEWS APP
Boris Johnson said the terrorist investigation is ongoing when speaking at Downing Street on Friday.
"Anyone involved in this crime and these attacks will be hunted down and will be brought to justice," he said. "[The U.K. will] never be cowed or divided or intimidated by this sort of attack and our British values will prevail."
Fox News' Gillian Turner and The Associated Press contributed to this report.