Japan recalls envoy to South Korea over comfort-woman statue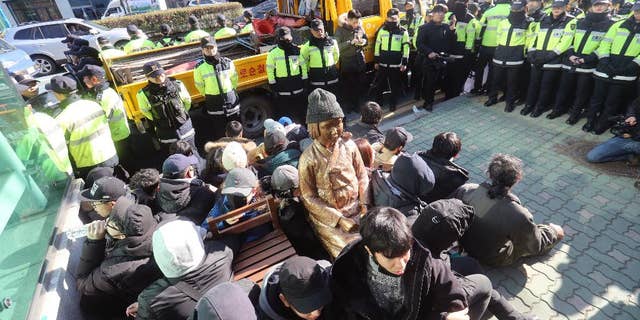 TOKYO – Japan is recalling its ambassador to South Korea in response to the placing of a comfort-woman statue in front of its consulate in the Korean city of Busan.
Both Ambassador Yasumasa Nagamine in Seoul and the consul-general in Busan will be temporarily recalled, Japanese Chief Cabinet Secretary Yoshihide Suga said after a Cabinet meeting Friday.
"Comfort women" was the euphemism for women in Asia forced to provide sex to Japanese soldiers at front-line brothels during World War II.
Suga called the placing of the statue "extremely regrettable," since Japan and South Korea had reached what was supposed to be a final agreement to resolve their differences over the issue in late 2015.
Activists in South Korea oppose the agreement. A comfort-woman statue put up front of the Japanese embassy in Seoul in 2011 remains in place, and activists installed a similar statue by the same sculptor in Busan late last month.
The South Korean Foreign Ministry called Japan's decision to recall its ambassador "very regrettable," adding that both countries should work toward advancing bilateral relations based on trust "even when there are difficult problems."