Israeli museum to remove 'McJesus' art sculpture after violent protests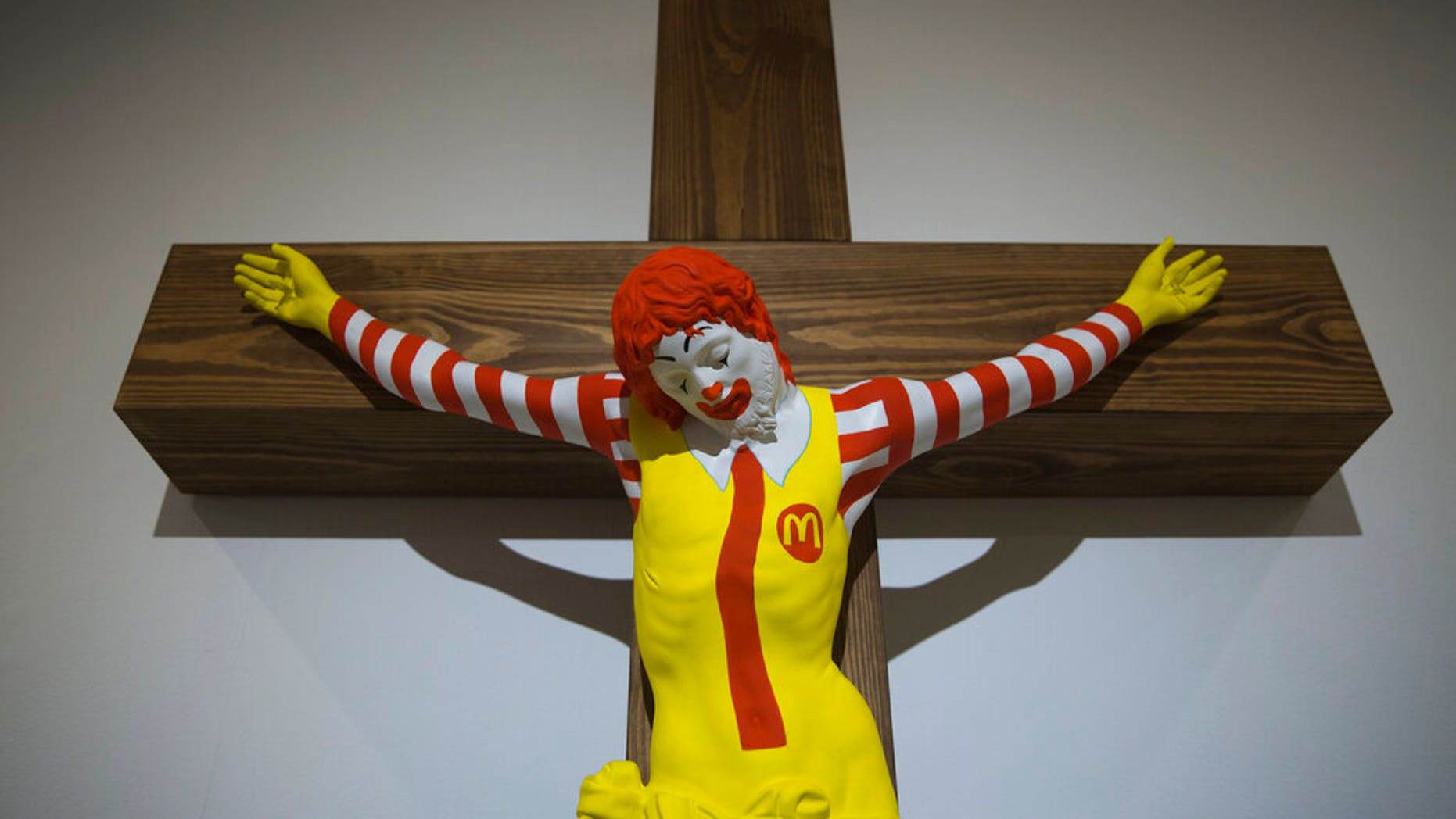 The controversial "McJesus" art sculpture -- depicting a life-size Ronald McDonald hanging from a cross -- will be removed from an Israeli museum following violent protests in Haifa, Israel.
The city's first female mayor promised the removal of the "offensive" artwork from the Haifa Museum of Art Thursday, drawing criticism from free speech advocates and civil liberties groups.
'MCJESUS' ART SCULPTURE AT ISRAELI MUSEUM UPSETS CHRISTIANS, SPARKS CALLS FOR REMOVAL
"The work will be removed and returned as soon as possible," Haifa Mayor Einat Kalisch-Rotem said, thanking the local churches for their efforts to help reach a solution and prevent further violence.
Hundreds of Christians in the Holy Land called for the artwork -- intended to be a criticism of capitalism worship -- removed. Police said that rioters who oppose the art have thrown stones and a firebomb at the museum, leaving three officers wounded. Authorities dispersed the crowds with tear gas and stun grenades.
Kalisch-Rotem said the decision to remove the statue was made "in agreement" with church officials. She met with the local Greek Orthodox and Greek Catholic Church clergy after they requested the court remove "McJesus" earlier this week.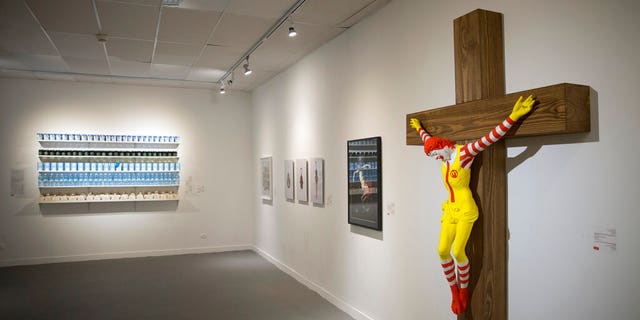 The controversial artwork by Finnish artist, Jani Leinonen, was on loan from the Zetterberg Gallery last year and was due to return by the end of January.
Leinonen's piece had been displayed in other countries with no complaints. But "McJesus" even led to in-fighting between Israeli state officials.
Deputy Attorney General Dina Zilber was forced to rebuke Culture Minister Miri Regev after she threatened to defund the museum.
CONTROVERSIAL 'MCJESUS' ART SCULPTURE DEFENDED BY ISRAEL
Leinonen, wanted his artwork removed "instantly" -- but for a different reason. He supports the pro-Palestinian group, Boycott, Divestment, and Sanctions, or BDS, which discourages doing business with the Jewish state.
Tal had earlier refused to take down the statue. He said that the museum won't cave to public pressure and promised to defend freedom of speech and "freedom of art."
CLICK HERE TO GET THE FOX NEWS APP
The mayor's move to get rid of the statue was also slammed by a civil liberties group, the Association for Citizen Rights, as "capitulation to violence" and a violation of "artistic freedom of expression."