Iraq violence kills seven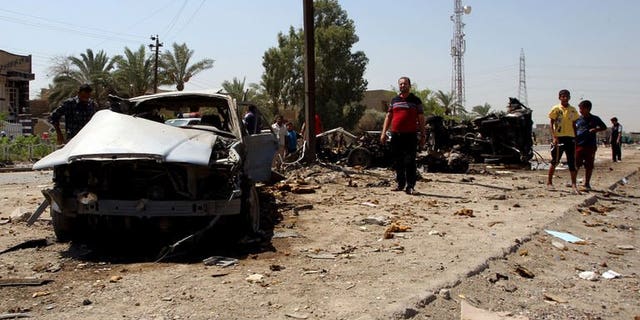 BAGHDAD (AFP) – Attacks in Baghdad and north of the capital killed seven people on Friday, the latest in spiralling violence authorities have failed to stem despite launching wide-ranging anti-militant operations.
Iraq's prime minister has pledged to press a campaign against insurgents and security forces have carried out some of their biggest operations since the 2011 withdrawal of US forces in recent weeks in a bid to combat the violence, which is at its highest level since the country was emerging from all-out sectarian war in 2008.
In Friday's deadliest attack, a roadside bomb exploded in the west Baghdad neighbourhood of Ghazaliyah, killing at least four people and wounding 14 others, while another blast on a commercial street in Saidiyah wounded six, officials said.
In Muqdadiyah, north of Baghdad, gunmen entered the home of the town's police chief's and shot him dead in front of his family.
Elsewhere, a roadside bomb at a minibus station in Buhruz, north of the capital in restive Diyala province, killed two people and wounded seven others, while seven members of the federal police were wounded by a blast further north in Samarra.
The violence comes a day after a series of coordinated bombings blamed on Al-Qaeda mainly targeting Shiite neighbourhoods of Baghdad killed at least 24 people and left nearly 100 others wounded.
The interior ministry has warned Iraq has become a "battleground", but insisted that while "the fight against terrorism is long and ardurous, and filled with enormous sacrifices... in the end, we will win."
Prime Minister Nuri al-Maliki has meanwhile said security forces would continue large-scale efforts to hunt militants.
Violence has markedly increased this year, attributed by analysts and diplomats to anger in the Sunni Arab community at alleged targeting and ill treatment at the hands of the Shiite-led authorities.
Attacks have killed more than 3,470 people in Iraq since the beginning of 2013, according to figures compiled by AFP.