In latest terrorism crackdown, police in Spain arrest man for allegedly recruiting youth for ISIS
By ,
Published January 10, 2017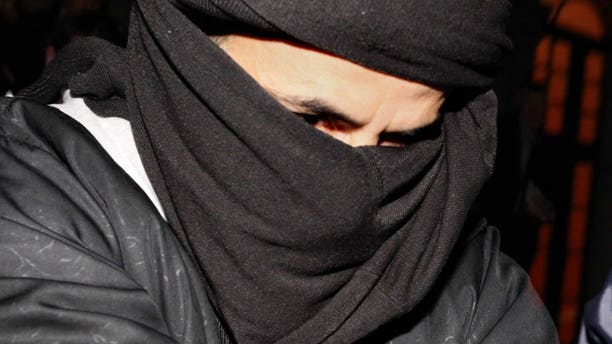 In the latest of a series of recent arrests in Spain tied to terrorism, police have arrested a man in the country's north-African enclave of Ceuta on suspicion of radicalizing and recruiting youth for the Islamic State group.
A statement says the detainee is a 34-year-old Spaniard, resident in Ceuta, who allegedly followed a Salafi ideology rigorously as a way of life.
Police detected several young women had traveled to Syria from Ceuta. This led them to discover the suspect working to recruit vulnerable young people, offering them help to travel to conflict areas to join IS.
The suspect's technique was to follow up an initial approach with internet communications and text messages whose function was to deepen the indoctrination process.
Police said the arrest took place early Saturday and the suspect was then flown by helicopter to a jail in Madrid.
This follows the arrest in Spain just two days ago of an Algerian-Irish man accused of recruiting an American woman who called herself "Jihad Jane" and plotted to kill a Swedish artist has been arrested in Spain, officials said Friday.
Ali Charaf Damache was arrested Thursday in Barcelona based on a U.S. warrant issued stating he was a suspected recruiter for an Islamic extremist group, according to the Interior Department for the northeastern region of Catalonia. Damache was taken to the National Court in Madrid on Friday and ordered jailed while the request for his extradition is reviewed.
Damache is wanted by U.S. authorities in connection with emails sent in the United States between 2009 and 2010 that indicated he was recruiting for al-Qaida in the Islamic Maghreb and was trying to establish cells, the department said.
The U.S. Justice Department says Damache, while living in Ireland, recruited Colleen LaRose in 2009 and another U.S. woman via jihadist websites. Damache married the other woman, Jamie Paulin-Ramirez, in a Muslim ceremony on the day she arrived in Ireland from Colorado.
Larose used the online nickname "Jihad Jane" and was convicted of agreeing to kill Swedish artist Lars Vilks, whose drawings depicting the prophet Muhammad as a dog offended Muslims. She was sentenced last year to 10 years in prison.
LaRose became obsessed with the cause after meeting a Muslim man on vacation in Amsterdam after a fight with her boyfriend, her lawyer said. She pursued it online when she returned to her rural Pennsylvania home. With her blond hair, blue eyes and U.S. passport, she forever changed the face of terror in the United States, prosecutors said.
Jamie Paulin-Ramirez was sentenced last year in the U.S. to eight years in prison for supporting Damache's work.
Damache initially fought extradition from Ireland. His path from Ireland to Spain was unclear. His arrest in Barcelona came after police received information he was in the city, changing hotels every few days.
Based on reporting by The Associated Press.
Like us on Facebook
Follow us on Twitter & Instagram
https://www.foxnews.com/world/in-latest-terrorism-crackdown-police-in-spain-arrest-man-for-allegedly-recruiting-youth-for-isis