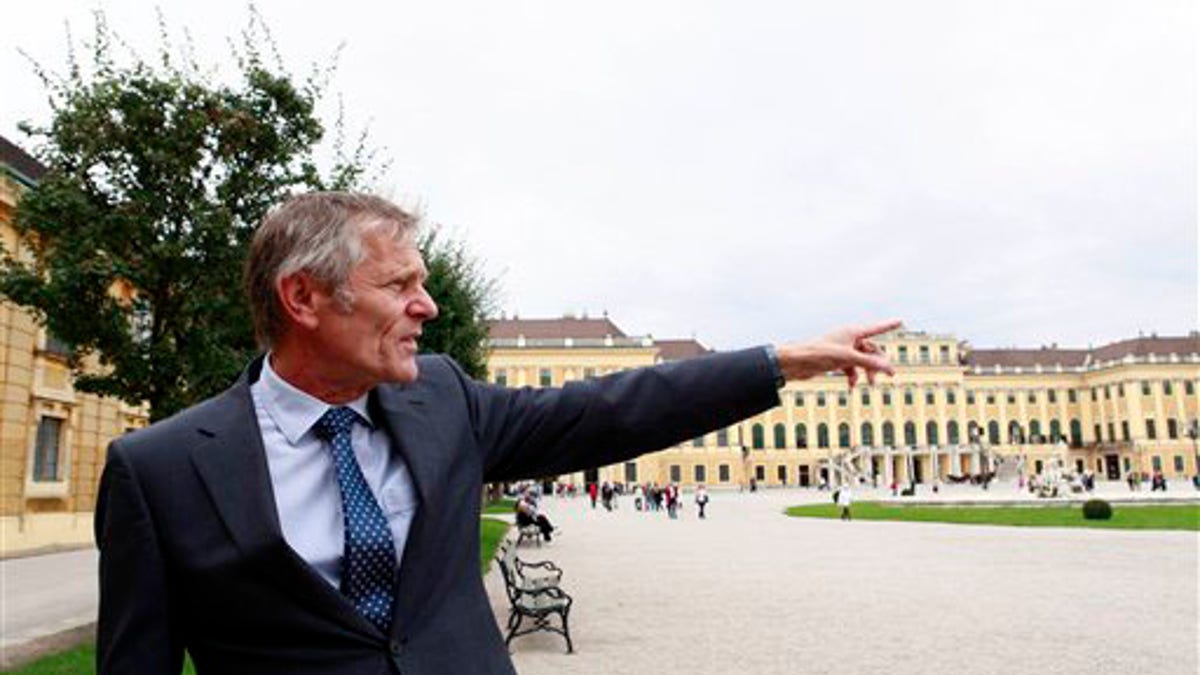 VIENNA – VIENNA (AP) — Robert Tidmarsh's eyes light up when he talks about the sprawling park surrounding Schoenbrunn Palace, one of Austria's most famous landmarks — and his to enjoy every time he comes home.
"My garden's quite nice!" says the 59-year-old as he describes the calm that spreads over the impeccable lawns after the daily throngs of tourists are locked out in the evenings.
His garden? Well, sort of.
Tidmarsh lives in an apartment on the grounds of the UNESCO world heritage palace that members of the Habsburg dynasty lived in when they ruled the Austro-Hungarian Empire. In this Alpine nation gilded with the grandeur of what was once Europe's most powerful royal house, several state-owned former imperial palaces aren't just museums — they're home for scores of lucky ordinary people.
Under the unusual arrangement, the state makes available some of the residential wings of Habsburg palaces and surrounding buildings for rent.
In the southern German state of Bavaria, several castles also offer apartments — but they are normally reserved for people employed for upkeep or oversight.
Tidmarsh, originally from the British city of Leicester, has lived in one of Schoenbrunn's former servant quarters since about 1981 — and couldn't imagine moving.
"People don't leave Schoenbrunn, people get carried out," he said in a recent interview in his cozy 124 square meter (1,335 square foot) apartment filled with antique wooden closets, porcelain trinkets and old portraits — including one of a young Queen Elisabeth II.
"It's beautiful to live here," added Tidmarsh, who speaks German like a local. He shares the apartment with his partner, Christine, and, from time to time, his grown daughter.
Tidmarsh earns a living helping to supervise and maintain the castle's Imperial Apartments, where Emperor Franz Joseph and his wife Elisabeth, known as Sissi, once resided and which now draw droves of visitors from around the world each year. However, other Schoenbrunn residents just enjoy the privilege of living there.
The palace and other buildings in the compound contain 165 rentals that range in size, location and condition — and cost between euro1,200 ($1,600) and euro3,000 ($4,000) per month according to Franz Sattlecker, one of the directors of a private company that manages the property. About a third of the apartments cost far less — between euro200 ($267) and euro800 ($1,067) — because they are in the hands of tenants who have passed them down over the generations. None can be bought.
"The flats are kind of a mirror of the times during the monarchy," said Sattlecker.
The more reasonable ones, such as Tidmarsh's abode, have low ceilings and small windows. But others — redone after elderly tenants die — boast new wooden floors, modern bathrooms and huge, airy rooms flooded with natural light.
But those also come with a hefty price tag. A vacant five-room apartment in the palace proper, for example, will cost about euro3,000 ($4,000) per month, heating excluded, once it's refurbished, according to Sattlecker. Renovation work is paid for by the company that manages Schoenbrunn. Although state-owned, it receives no subsidies from the government and relies solely on funds derived from entrance fees, merchandizing, events and rents.
People interested in becoming tenants are added to a waiting list until something opens up. How long depends on what they're after.
There's also plenty of interest in Vienna's Hofburg Palace — historically the main residence of the Habsburgs. Situated in the center of the city, it now houses museums and the office of Austria's president, Heinz Fischer.
Usually, there are between 50 and a hundred people vying for a flat in the sprawling complex with multiple courtyards and a green dome frequently pictured on postcards, said Wolfgang Beer, who oversees the building. Currently, all apartments, whose rents generally range from euro7 ($9) to euro10 ($13) per square meter a month, are taken.
Getting in is not that easy, says Lotte Ingrisch, an author and widow of renowned classical Austrian composer Gottfried von Einem who has been a Hofburg resident for years, adding that she pushed for nine months for a spot — despite having political connections. Von Einem's wish was to compose in the Hofburg and "when my husband wanted something, I fought for it," she said.
"I really like being here," said Ingrisch, as she sat in her apartment divided into several large high-ceilinged rooms crammed with books, paintings and even an antique harmonium — a type of keyboard instrument.
"I thought only very special people are allowed to live in the Hofburg — but that's not true."
From the windows of her mezzanine flat, the 80-year-old and her three cats have a front row view of a courtyard where the president often welcomes foreign counterparts. The Hofburg often also serves as the venue for high-level political meetings.
"Only people who lived in the Burg were allowed in, everything was sealed off," Ingrisch said as she recalled the June 2006 visit by former U.S. President George W. Bush.
But aside from the occasional inconvenience caused by a head of state, Ingrisch claims that life in the Hofburg is just like anywhere else.
"Everyday life is like in any other building — I wake up in the morning, have a quick coffee at Aida (a cafe nearby), and then I go shopping to buy things like cat food or cat litter," she said. "It's completely normal."
And what would any old castle or manor be like without a ghost or two? Ingrisch, at least, is convinced former denizens continue to haunt the Hofburg.
"Once I saw an old lady crouching in the air up there," she said pointing to a spot on the ceiling.
___
Associated Press writer Kirsten Grieshaber contributed to this report from Berlin.