Guatemalan ex-president held on fraud charges, investigation continues
By ,
Published January 02, 2017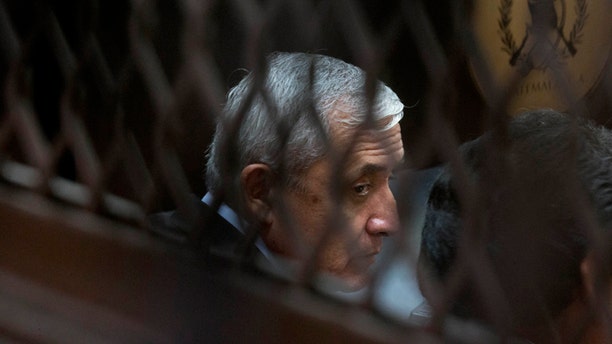 Former President Otto Pérez Molina was ordered jailed on charges of fraud, conspiracy and bribery Tuesday in connection with a customs corruption scandal that took down much of his government and forced him to resign.
Judge Miguel Angel Galvez ordered the ex-president held during the investigation into whether he should stand trial. Galvez determined there was enough evidence to link him to the fraud ring, known as "La Linea," or "The Line," in which businesspeople paid bribes to avoid import duties through Guatemala's customs agency.
Galvez said he issued the detention order due to a "danger of interference with the truth," noting that several people in the case are fugitives and suggesting Pérez Molina could use his influence to hinder the investigation. The former president was ordered held for three months.
Pérez Molina has maintained his innocence, saying he is being prosecuted on rumors and hearsay.
The scheme, uncovered last year by prosecutors and a U.N. commission known as CICIG, which is investigating criminal networks in the country, is believed to have defrauded the state of millions.
Pérez Molina's former vice president, Roxana Baldetti, has already been jailed and faces charges. Prosecutors said she received at least $3.7 million in bribes.
It was another blow against entrenched corruption in the small Central American country and another first for Pérez Molina, who became Guatemala's first democratically elected president to resign when he stepped down last week.
The corruption scandal brought together thousands of protesters, from the indigenous to business people and clergy, all demanding the president resign and fundamental changes in the political process. The discontent played out during Sunday's presidential election, in which the front-runner in the polls, a longtime congressman and establishment candidate, placed third in the vote and will not likely advance to the Oct. 25 runoff.
Galvez ordered Pérez Molina jailed in the same cell where he has been held since last Thursday, the day Congress accepted his resignation and court proceedings started. Former Vice President Alejandro Maldonado was sworn in as president Thursday and struck a tone of conciliation and rebuilding, urging protesters to stay involved in changing the political process.
In an exclusive interview with The Associated Press, Pérez Molina said he is being held in a small room with a bathroom and barred window. The cell is in the Matamoros military barracks in the capital city, but is run by the civilian prison system.
It has a metal door that only guards can open from the outside, but it usually remains open so he can walk into a small corridor, he said. He has two guards.
Pérez Molina said he is suffering from mosquito bites and had a fever over the weekend, for which he was given an antibiotic.
His fall was swift as congress voted just a week ago to strip him of his immunity from prosecution as an elected official. By late Wednesday a judge ordered his detention, and he submitted his resignation at midnight.
In Pérez Molina's hearing, the U.N. commission said it has 88,000 wiretaps including one of the former president talking to Carlos Muñoz, superintendent of the Tax Administration, and ordering him to change a human resources manager to a person he recommended.
Under the law, the agency is autonomous from the presidency. Prosecutors argued that Pérez Molina wanted the personnel change to help facilitate the activities of the fraud ring.
Pérez Molina argued that it was to improve tax collection.
At least 100 people are under investigation in the case.
Like us on Facebook
Follow us on Twitter & Instagram
https://www.foxnews.com/world/guatemalan-ex-president-held-on-fraud-charges-investigation-continues