Greece: Deputy minister quits over debt talks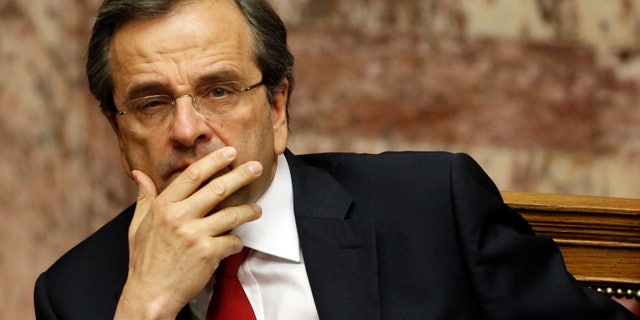 ATHENS, Greece – A deputy labor minister resigned on Monday from Greece's new coalition government, saying it should have pressed harder to renegotiate the terms of the country's bailout agreements.
Nikos Nikolopoulos announced his resignation hours after the new conservative-led government won a confidence vote in parliament.
In a letter, Nikolopoulos, argued that the government should have taken a tougher line with international debt inspectors in Athens last week to "correct serious distortions in the labor, pension and benefit systems."
Nikolopoulos was considered a close ally of conservative Prime Minister Antonis Samaras, who named a replacement shortly after the resignation was announced -- U.S.-trained economist Nikos Panagiotopoulos.
Greece, in its fifth year of recession, has been surviving on international rescue loans for more than two years. The conservatives won June 17 elections on a campaign pledge to improve the terms of austerity measures demanded by creditors.
Since winning the election, Samaras has been plagued by Cabinet problems, replacing his finance minister due to illness, losing a deputy merchant marine minister over a business conflict of interest, and finding himself forced to cut down his schedule after eye surgery for a detached retina.
Backed by the traditional rival Socialists and the small Democratic Left party, the government late Sunday won the confidence vote in parliament required for it to formally begin its four-year term, with votes from 179 coalition party lawmakers in the 300-member assembly.