French students join mounting fury after video emerges of school kids on their knees in front of riot police
PARIS - As France braces itself for violent demonstrations on Saturday, hundreds of students, most of them still in high school, took to the streets a day early as a preview of things to come, after footage surfaced showing high school students being brutally detained by riot police.
The video, which emerged on Thursday afternoon from Mantes-la-Jolie, a town north-west of Paris, showed dozens of students on their knees in front of police with their hands tied behind their backs or behind their heads.
One officer can be heard mocking the students, saying: "Here is a class that behaves well."
Jean-Jacques Brot, the local authority chief responsible for Mantes-la-Jolie, told France's Le Parisien newspaper that he had instructed the officers to make arrests, but insisted that "no young people were hurt or mistreated".
Nonetheless, in response to the shocking footage, student protesters, some donning black masks, marched through Paris Friday, starting at the Stalingrad Square to the Republic Square, where they recreated the arrest scene while being surrounded by police officers wearing riot gear.
The students climbed on the statue of Marianne, representing liberty and reason, with some also defacing the monument with anti-Macron slogans.
FRANCE SCRAPS FUEL TAX, WEIGHS WEALTH TAX IN RESPONSE TO MASSIVE PROTESTS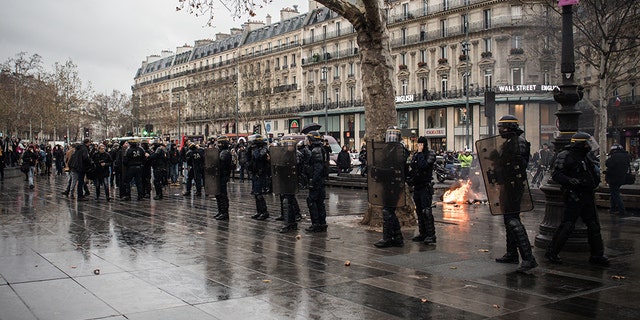 The arrest of the students was the rallying cry that galvanized the young to voice their frustration with President Emmanuel Macron's unpopular policies, including compulsory military service for 16-year-olds and education reforms that caught many of the students as a surprise.
Clara, a 15-year-old high school student, told Fox News she has been caught in the crossfire of the education reform, which forces students to specialize in particular subjects rather than focus on broad areas of study, with no one being "able to explain it" to her or her fellow students.
She also opposes the plan to introduce the national service for teens, which would force every teenager to undergo at least four months in total military service in an effort to promote French values and unity.
DESPITE HEAT AT HOME, TRUMP APPROVAL RATINGS TOWER ABOVE EMBATTLED EUROPEAN LEADERS'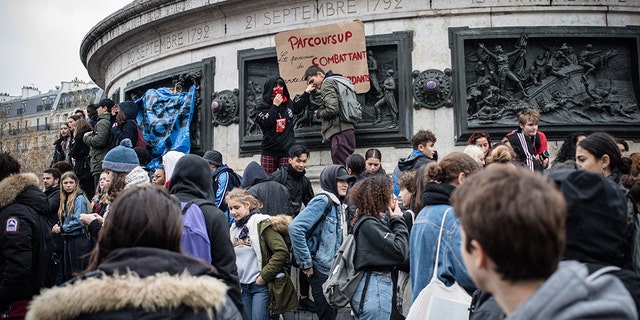 Leonardo, a high school student in Paris, said the measure is a waste of money and time because teens could spend their time getting a temporary job instead, while the money could go to more important issues.
Among those important issues is the government's decision to increase tuition fees for students outside the European Union. Students decried the policy of as "disgusting" and against the spirit of "equal opportunity."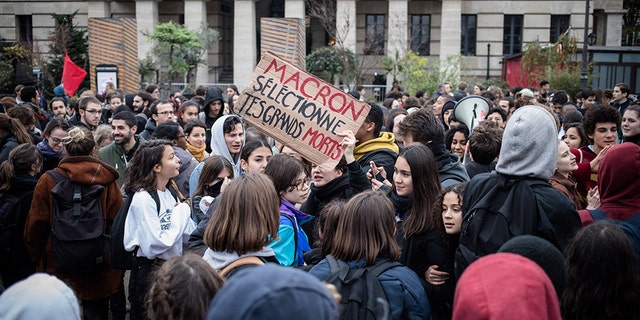 Ultimately, the students say they want the unpopular decisions to be reversed and Macron sent to the dustbin of history, though David, a university student, said the problems didn't start and won't end with the fall of Macron.
"The people fighting right now they realize the solution to their problems isn't electing another president, they see the solution by fighting in the streets, going on strike, and blocking the economy," he said.
"If Macron falls, whatever president comes it will have to deal with the power dynamic of people who realized that if they fight they can win," he added.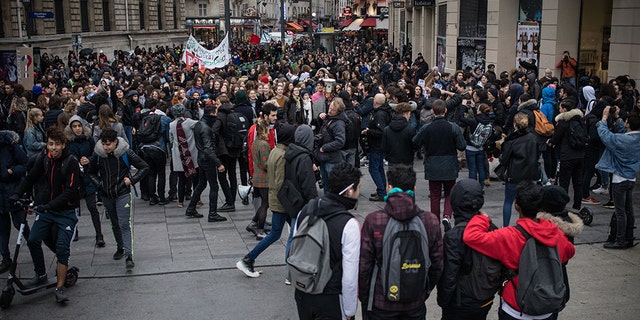 Leonardo puts more blame on Macron as he was the one who spearheaded the unpopular changes. He says his presidency, despite lasting so far for merely two years, has been plagued with unpopular decisions and anger by the people, for which he should resign.
While some students expressed caution that Macron's fall may pave way to more radical politicians, like the far-right National Front leader Marine Le Pen, others believe that the president isn't that much different, who enacted a number of anti-immigrant policies.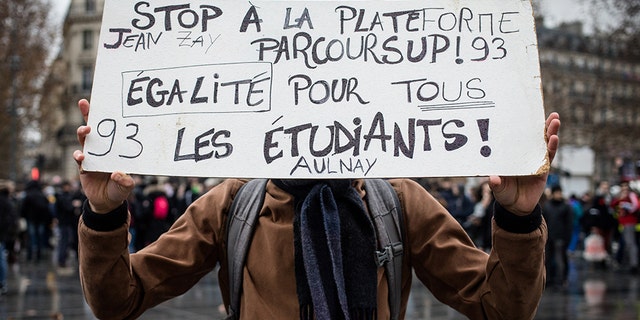 Friday's student protest is just a taste of things to come this weekend. Saturday will see the return of the so-called "Yellow Vest" movement, taking its name from the high visibility jackets worn by French drivers who are required to keep them in their cars in case of emergency.
It will be the fourth weekend in a row where protesters will be demanding the government change its course and abandon Macron's policies that have so far failed to rejuvenate the economy while causing pain to the poorest in the country.
Amid fears that this Saturday will be the most disruptive yet, the French government announced 89,000 additional police officers across the whole country, with 8,000 of them keeping the peace in Paris.
Main tourist attractions like the Eiffel Tower and the Louvre, will also be closed. Tourists are advised to stay away from the protest and avoid central Paris in general.
The "Yellow Vests" protests were kick-started after the government approved measures to increase gas price by nearly 30 cents per gallon, making France's gasoline, which is among the most expensive in Europe, even more expensive.
In recent days, Macron's government announced that the gas taxes will be scrapped, but the concession came little too late as the "Yellow Vests" movement morphed into a general movement against deteriorating living standards in France.