Francis opts for informal front-door encounter with residents in hill town outside Rome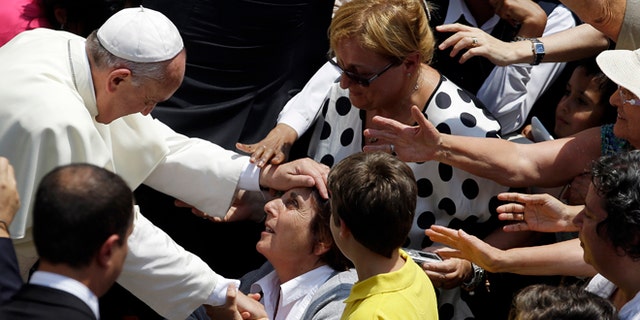 CASTEL GANDOLFO, Italy – Abandoning the traditional Sunday greeting to crowds in St. Peter's Square for a day, Pope Francis opted for an informal front-door encounter with residents in a hill town outside Rome that hosts the papal summer palace.
Unlike his predecessors, Francis isn't spending the summer at the Vatican residence in Castel Gandolfo, a lakeside town about a 30-minute drive to the Alban Hills southeast of Rome. Instead, he came for the day, escaping the stifling humid weather in the Italian capital for a few hours.
Usually when in Castel Gandolfo, pontiffs appear at a window overlooking an inner courtyard or on a balcony facing the town's main square. This time, Francis spoke to people at their level, standing at the main entrance, chatting and bending down to kiss babies in strollers.
The atmosphere was almost neighborly, with one young man in the crowd reaching and patting Francis on the shoulder and another person telling Francis it was his birthday.
Francis said he would like to send a cake to help residents celebrate the feast day Monday of the area's patron saint, but, he joked, drawing laughter, "I don't know if they can make such a huge cake." He was also lunching in the afternoon with fellow Jesuits, who run the Vatican's astronomical observatory in Castel Gandolfo, before the drive back to Rome.
The Argentine-born pontiff mentioned that he would soon go to Brazil to join young people for the Church's World Youth Day jamboree.
"I'll leave in eight days, but many young people will head to Brazil even before," Francis said of his July 22-29 pilgrimage to Rio de Janeiro. He asked for prayers so that participants will be "guided in their steps," and that they would "open their hearts to the mission ... Christ will give them."
The gathering, which often draws hundreds of thousands of participants, is held every other year in a different part of the world and serves as a kind of pep rally to energize the youngest members of the Catholic church. The Vatican is concerned that many people in South America, where Catholicism is the predominant religion, are joining evangelical Protestant churches seen as more dynamic and attentive to the needs of people in the developing world.
Francis last came to Castel Gandolfo in March, shortly after being elected pope, to pay a call on his predecessor, Benedict XVI, who, in the weeks following his historic retirement, was staying at the summer residence. Benedict has since moved back to Rome, settling into a monastery on Vatican City's grounds, where he plans to spend his days in prayer and meditation.