Fierce clashes in suburbs of Syrian capital
By ,
Published December 10, 2015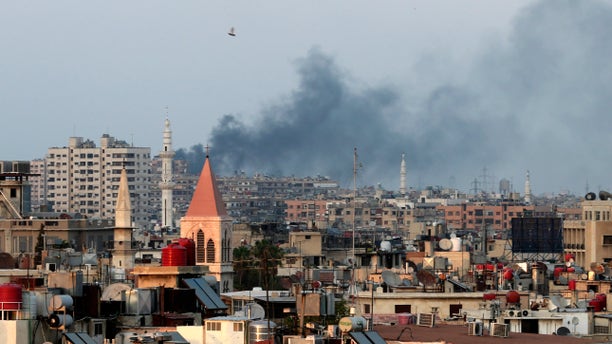 Syrian troops and opposition fighters clashed Friday during fierce battles in suburbs of the Syrian capital where the opposition claims a chemical weapons attack this week killed more than 130 people, activists said.
As the government pursued its offensive on the rebel-held eastern suburbs for a third day, United Nations Secretary-General Ban Ki-moon urged the Syrian government to allow a U.N. team now in Damascus to swiftly investigate the alleged chemical weapons attack. U.N. deputy spokesman Eduardo del Buey said Ban has been in touch with world leaders since Wednesday and is sending U.N. disarmament chief Angela Kane to Damascus to press for an investigation.
Syrian opposition figures and activists have reported death tolls from Wednesday's attack ranging from 136 to 1,300. If confirmed, even the most conservative tally would make it the deadliest alleged chemical attack in Syria's civil war.
The Britain-based Syrian Observatory for Human Rights and Syria-based activist Mohammed Abdullah said government warplanes and artillery were pummeling different parts of the Damascus suburbs Friday, including the areas allegedly hit by toxic gas this week.
In an interview broadcast Friday on CNN, President Barack Obama called the possible chemical attack a "big event of grave concern." Obama said the event was "very troublesome" and was going to "require America's attention."
Just more than a year ago, Obama warned that the use of chemical weapons in Syria would be a "red line" for the U.S. and carry "enormous consequences." Washington then said in June that it had conclusive evidence that President Bashar Assad's regime had used chemical weapons against opposition forces, prompting a U.S. decision to begin arming rebel groups, although that has not happened yet.
While the U.S. is providing humanitarian support and financial aid to the opposition, the Obama administration has made clear its desire not to get directly involved militarily in Syria's bloody conflict. But that position is coming under increasing pressure following Wednesday's alleged gas attack as both the Syrian opposition and many of their Western allies clamor for a forceful international response if chemical weapons were indeed employed.
Already, the U.S., Britain and France have called for the U.N. team currently in the country to be granted immediate access to the locations hit on Wednesday.
Russia, a close ally of the Assad regime, called on Friday for an independent probe by U.N. experts, but did not specify where the inspectors already in the country should immediately visit the areas hit on Wednesday.
The Russian Foreign Ministry also said that Minister Sergey Lavrov and U.S. Secretary of State John Kerry had discussed the situation by telephone on Thursday, and concluded that they had a "mutual interest" in calling for the U.N. investigation. The ministry said Russia had called for Assad's embattled government to cooperate with a probe, but questions remained about the willingness of the opposition, "which must secure safe access of the mission to the location of the incident."
At the same time, Moscow cast doubt on whether a chemical attack even occurred, saying "new evidence that is starting to emerge increasingly shows that this criminal act was clearly a provocation."
The U.N. team has been in Damascus since Sunday to investigate three sites where past chemical weapons attacks allegedly occurred: the village of Khan al-Assal just west of the embattled northern city of Aleppo and two other locations kept secret for security reasons. It took months of negotiations between the U.N. and the Syrian government to agree on the limited mandate of the probe.
Deputy Prime Minister Qadri Jamil told The Associated Press on Thursday he was personally in favor of a fair, transparent international delegation to investigate the most recent incident in Ghouta. But he said that would require a new agreement between the government and the U.N. and that the conditions for such a delegation would need to be studied.
The timing of an investigation is of acute importance because it becomes increasingly difficult to reliably detect traces of what chemical, if any, was used in an attack as time passes. An immediate probe would also allow inspectors to collect blood and soil themselves and transfer it from the site to a laboratory without intermediaries, guaranteeing the chain of custody of the evidence and the integrity of the investigation.
In neighboring Lebanon, the army said in a statement that troops have captured a truck with "large amounts" of gas masks in the southeastern village of Kfeir near the border with Syria.
A Lebanese army general said an investigation is under way about the masks and could not say whether they were being taken to Syria. He spoke on condition of anonymity in line with regulations.
https://www.foxnews.com/world/fierce-clashes-in-suburbs-of-syrian-capital