Europe continues Mafia crackdown, arrests 90 in continent-wide raids
About 90 alleged Italian mafia members were arrested Wednesday in a Europe-wide operation spanning across four countries, just a day after the new boss of the Cosa Nostra and 45 other top mobsters were rounded up.
Authorities said they conducted raids in Germany, Italy, Belgium and the Netherlands in a crackdown on the 'Ndrangheta, a southern Italy-based organized crime group.
The arrests came following an investigation dubbed Pollino that was launched in 2016 against the Italian mafia over allegations of cocaine trafficking, money laundering, bribery and violence.
The crackdown was coordinated by Eurojust, a European unit established to fight cross-border organized crime.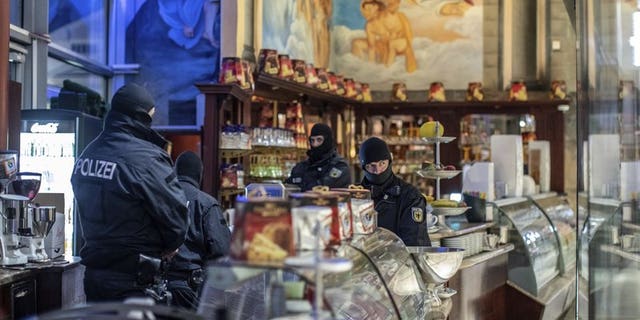 Prosecutors and officials said the raids on Wednesday netted about 2 million euros in criminal proceeds and some ecstasy pills and cocaine were found. Throughout the two-year joint investigation, some four tons of cocaine were seized.
"Today we send a clear message to organized crime groups across Europe," Eurojust Vice President Filippo Spiezia said. "They are not the only ones able to operate across borders; so are Europe's judiciary and law enforcement communities."
But some express caution and said the mafia will continue to pose threat as the group still has resources and is operating across the world.
Federico Cafiero De Raho, Italian anti-mafia and anti-terrorism national prosecutor, said the arrests "are nothing for 'ndrangheta. There are thousands of people who should be arrested and billions of euros that should be seized."
"There are thousands of people who should be arrested and billions of euros that should be seized."
The latest clampdown on the Italian mafia signals the European authorities' efforts to combat organized crime groups.
The 'Ndrangheta is considered the leading mafia group that managed to extend its reach even amid the scrutiny and constant arrests. It's the only mafia group that operates on all continents, prosecutors say.
The group surpassed Sicily's Cosa Nostra and the Naples-based Camorra groups, according to AFP, due to its tight on the control of cocaine trade.
NEW HEAD OF COSA NOSTRA AMONG 46 ARRESTED IN SICILY: 'NO MORE ROOM FOR THIS TYPE OF SCUM IN ITALY'
The Wednesday arrests came just a day after the authorities announced the arrest of Settimo Mineo, 80, the presumed new boss of the Cosa Nostra. He was arrested together with with 45 other top mobsters, Italian authorities said Tuesday.
Authorities said they dismantled the upper ranks of the mafia that in recent years made a comeback and regained some of its lost prominence that peaked in the 1990s.
Interior Minister Matteo Salvini said the raid was an "extraordinary operation" in the Sicilian capital, Palermo.
Deputy Prime Minister Luigi di Maio hailed the operation as "one of the biggest blows inflicted on the mafia" by the Italian authorities.
"There is no more room for this type of scum in Italy," he added.
The Associated Press contributed to this report.