Egypt grants President el-Sissi sweeping new powers; leader could stay in office until 2030
Egyptian President Abdel-Fattah el-Sissi could remain in power until 2030 after voters on Tuesday opted to amend the constitution in favor of his authoritarian rule -- in a referendum process that critics slammed as undemocratic.
Head of Egypt's National Election Authority Lasheen Ibrahim announced at a news conference that amendments pertaining to extending el-Sissi's term limits were approved with nearly 89 percent in favor, and 44 percent of the 61 million eligible voters heading to the polls.
El-Sissi, who has been in power since 2014 after he led the military overthrow of an elected but divisive Islamist president, thanked the people of Egypt on Twitter shortly after the results were announced.
"Wonderful scene done by Egyptians who took part in the referendum... will be written down in our nation's historical record."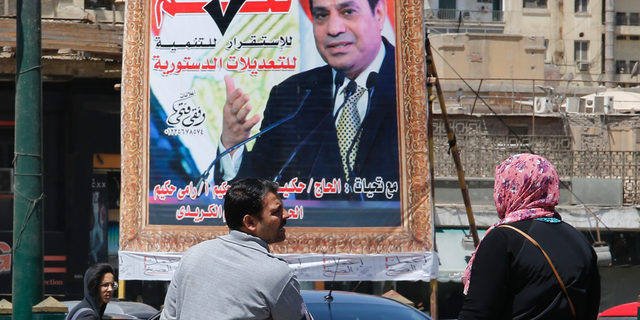 The amendments were to extend the president's term in office from four to six years and allow for a maximum of two terms. But, a special article specific to el-Sissi was included that would extend his current, second four-year term to six years and allow him to run for another six-year term in 2024 — potentially extending his rule until 2030.
Opponents said the three-day referendum was riddled with pro-government tactics.
OPINION: EGYPT NEARLY MURDERED ME. WILL THE US REWARD IT WITH MORE TAXPAYER DOLLARS?
Pro-government media, business people and lawmakers had pushed for a "Yes" vote and a high turnout, with many offering free rides and food handouts to voters, while officials threatened to fine anyone boycotting the referendum.
Opposition parties had urged a "no" vote, but they have little power in parliament, which is packed with el-Sissi supporters and which overwhelmingly approved the amendments earlier this month. The local media are also dominated by pro-government commentators, and officials have blocked hundreds of websites, including many operated by independent media and rights groups.
CLICK HERE TO GET THE FOX NEWS APP
Since early April, the capital city of Cairo had been awash with large posters and banners encouraging people to vote in favor of the changes. Most of the posters apparently were funded by pro-government parties, businessmen and lawmakers.
The vote signaled an end to some of the freedoms won in 2011 after mass protests and civil unrest led to the end of strongman President Hosni Mubarak's nearly three-decade rule.
The Associated Press contributed to this report.