Death toll in slaying of Armenian family rises to 7 after baby dies of his wounds at hospital
By ,
Published December 12, 2015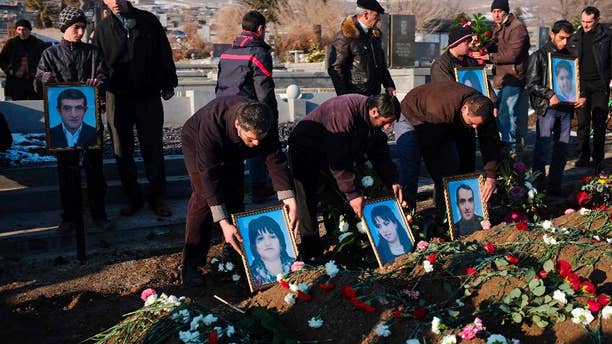 The death toll in the slaying of a family in Armenia blamed on a Russian soldier has risen to seven after a 6-month-old infant has died of his wounds.
The soldier serving at a Russian military base in Armenia is suspected of shooting six of the family members dead at their home in Gyumri last week. The baby, the only family member who survived the attack, died Monday at a Yerevan hospital.
The soldier was captured and remained in custody at the Russian military base in Gyumri.
Thousands rallied in Gyumri demanding that the soldier be handed over to Armenian authorities.
Russia, Armenia's main sponsor and ally, has offered condolences and assistance in the investigation. The head of Russia's top state investigative agency arrived in Armenia on Monday.
https://www.foxnews.com/world/death-toll-in-slaying-of-armenian-family-rises-to-7-after-baby-dies-of-his-wounds-at-hospital