D-Day veteran's grandson recalls 'vivid' letters of 'striking images' from Omaha Beach
After fighting with the Allies on D-Day, Navy sailor Bill Svrluga Sr. wrote letters that "vividly" recounted the horrors he witnessed, his grandson said.
Barry Svrluga, a sports columnist for The Washington Post, said Monday on "The Story" that his grandfather kept a journal that told the story of what he saw, as well as love letters to his grandmother.
Svrluga said his father, Bill Svrluga Jr., found the journal in a sideboard in his home while he was "about high school age."
"His mom, my grandmother, found him quickly after that and made it fairly clear that that was a private document," Barry Svrluga told Martha MacCallum.
WORLD WAR II VET, 101, COMMISSIONS GRANDSON DURING AIR FORCE ACADEMY GRADUATION
Svrluga said that after his grandparents died in 2006, his father came across the journal. It had been compiled after the Allied invasion of France that June morning.
Svrluga said the journal held "really vivid, vivid recounting of the horrors he saw that morning and in the days and weeks to come."
He recounted some of the entries in the journal, which included a description of his grandfather's role ahead of June 6, 1944.
"He was in the Navy and he was in a sub-chaser ship," Svrluga said.
"He describes in these journals these night-after-night runs to the coast of France to set buoy markers," he continued, adding his grandfather and his fellow sailors didn't know whether they would make it back to their base at the end of each mission.
"They might have encountered a mine at any point."
MacCallum read from one passage in the journal:
"So it was, the same old story night and day, day and night, caring for the wounded, loading ammunition, firing guns, burying the dead until at times you almost wished that the next bullet was intended for you."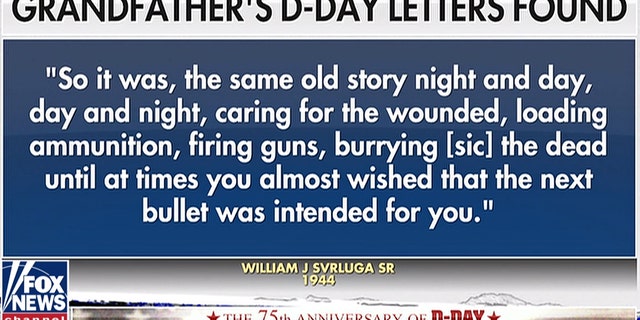 She said the elder Svrluga wrote that on the day of the battle, it felt "as if the world was being shaken at its roots."
Svrluga told MacCallum his grandfather was stationed 50 yards offshore, manning a gun.
"His job was to provide cover for the Army soldiers that were going ashore and trying to climb the bluffs at Omaha Beach," Svrluga said. "[Those were] some of the very striking images that he wrote about."
He added that in 2003, his grandfather returned to France on the anniversary of D-Day and that it was an emotional visit.
"He made it very clear that he wanted to go back to Normandy because he owed it to guys who didn't make it back."
Fox News' Martha MacCallum contributed to this report.