Cooler temperatures aid Spanish firefighters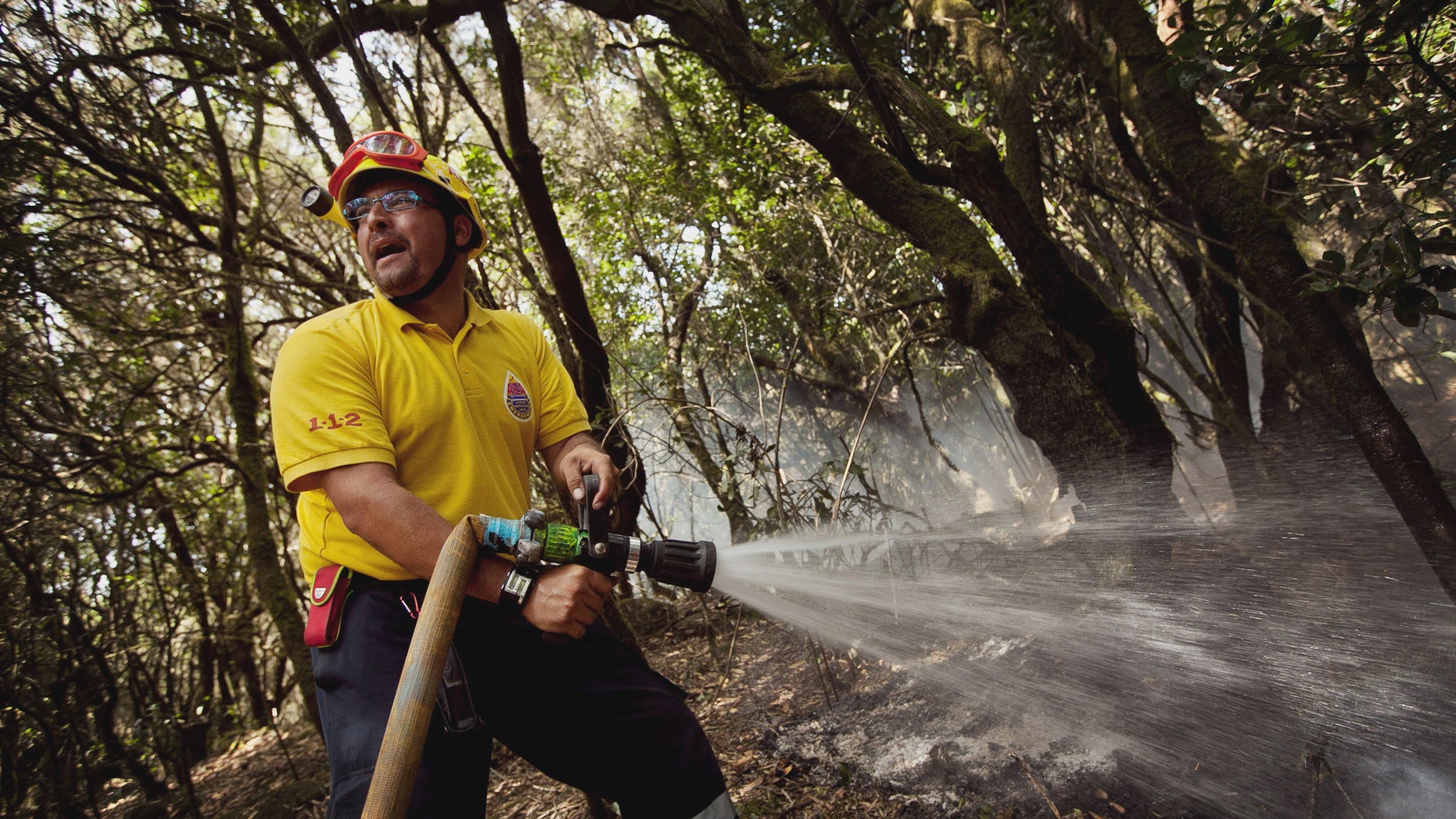 Cooler temperatures and favorable winds are helping firefighters battle an 11-day-old blaze raging on the Canary Island of La Gomera, Spanish authorities said Wednesday.
The forest fire is among the worst to affect Spain in 2012, during which wildfires have caused triple the damage of the previous year. Critics say economic crisis cutbacks are hampering efforts to deal with the blazes.
The Canary Islands regional government said Wednesday that the fire on the island, which lies off the North African coast, was still out of control. But it said firefighters were making greater progress because of a sudden drop in summer temperatures and a change in wind direction that had contained the fire's spread.
The fire has so far burned just over 30 square kilometers (11. sq. miles), in and around the island's central Garajonay National Park, a UNESCO world heritage site.
The Canary Islands government has long demanded its firefighting equipment be boosted by the central government.
Agriculture Minister Miguel Angel Canete has acknowledged that cutbacks have likely affected regional governments' abilities to prevent or put out forest fires. He pledged new measures soon but gave no details.
Forest fires in Spain burned 1,300 square kilometers (500 square miles) from January through Aug. 5, the ministry says, more than triple that of the same period during 2011.
Leading newspaper El Pais on Wednesday highlighted that the blazes, while started mostly by people and abetted by drought and soaring temperatures, have coincided with severe cutbacks in spending by both regional and national governments.
"Prevention is less costly than repairing the damage done," the paper said in an editorial.
Environmental organizations such as Greenpeace and the World Wildlife Fund have for years criticized Spain for its forest fire prevention programs.
Spain is in a double dip recession with near 25 percent unemployment. It has introduced a batch of austerity measures and financial and labor reforms to try to convince EU partners and investors that it is serious about getting its finances in shape and can avert a full blown sovereign bailout.
One of its biggest tasks is to reduce its swollen central and regional government deficits, and this has led to major cutbacks in spending by regional governments -- those chiefly responsible for fighting forest fires.
On Tuesday, the cash-strapped central region of Castilla-La Mancha announced plans to cut its number of firefighters by almost a third.
Labor unions and the leading opposition Socialist party have also complained about cutbacks in firefighting efforts in other regions such as northeastern Catalonia, central Castilla y Leon and northwestern Galicia, all of which have been badly affected by blazes.
Three firefighters and three civilians -- including two French tourists -- have died in recent wildfires.