Clashes between Boko Haram, Nigeria vigilantes kill 18
By ,
Published December 04, 2015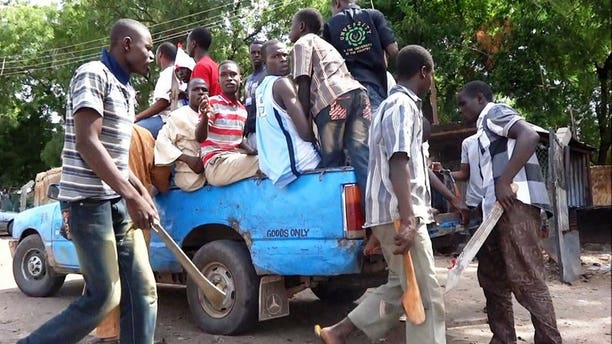 Clashes Sunday in Nigeria's restive northeast killed five Boko Haram Islamists and 13 fighters from a vigilante group which has fought a series of recent battles with the Islamists, a state government official said.
Members of the civilian militia heard that Islamists were planning to attack the town of Benishiek in Borno state, Boko Haram's historic stronghold, said Garba Ngamdu, an aide to the state governor.
The Islamists arrived in the early hours of Sunday morning and a gunfight broke out, Ngamdu added, in accounts corroborated by several vigilante fighters.
"The youths (vigilantes) in Benishiek lost 13 of their members. Twelve died when they were ambushed around 12:30 am (2330 GMT Saturday) and another one died in the hospital," he said.
He added that five Boko Haram fighters were also killed.
The governor's aide and wounded vigilante fighters described the clashes to journalists in the Borno state capital Maiduguri, some 70 kilometres (43 miles) from Benishiek.
https://www.foxnews.com/world/clashes-between-boko-haram-nigeria-vigilantes-kill-18