Award-winning musician sues ex girlfriend after she sabotaged prestigious scholarship
By Kathleen Joyce, ,
Published June 15, 2018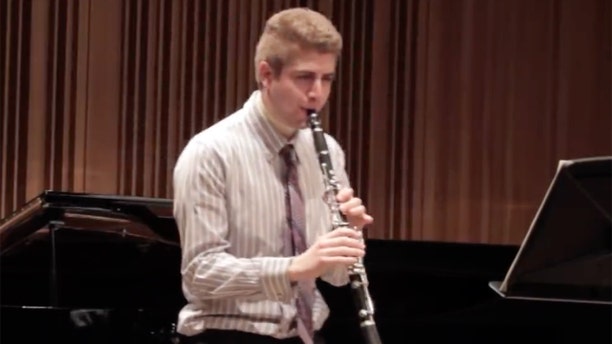 An award-winning Canadian clarinetist sued his former girlfriend after discovering she posed as him and rejected a competitive scholarship he had applied for in the U.S.
Eric Abramovitz was studying at McGill University in Montreal when he decided to apply for an extremely competitive scholarship at Colburn Conservatory of Music in Los Angeles, the Montreal Gazette reported. The musician auditioned hoping to study under Yehuda Gilad, a renowned professor of clarinet at the school. Gilad accepts only two students a year to study under him. The scholarship covered tuition, room and board and living expenses.
The musician told the Washington Post he spent hours practicing for the tryout and felt confident after his live audition in February 2014. However, a few weeks later Abramovitz said he was saddened to learn he had not been accepted to study under Gilad. The musician instead finished up his education at McGill, received his bachelor's and put his music career on hold.
WORLD CUP FEVER HITS UN AS AMBASSADORS DON THEIR NATIONS' SOCCER SHIRTS
"I just invested so much," Abramovitz said. "I gave it all I had."
The musician tried once again to enter the program and auditioned with Gilad in 2016. It was then that he learned that he had in fact been accepted into the program.
"What are you doing here? You rejected me," Gilad asked Abramovitz.
The musician decided to look into the situation. His friend suggested his former girlfriend, Jennifer Lee, may have done something.
"I never would've even considered that the person I trusted the most would have done something like this to me," Abramovitz said.
The musician said he and Lee had practically been living together at the time and she knew his passwords to his computer and email. In May 2016, Abramovitz and his friend did some digging and found an email Lee used to send the fake rejection letter to Abramovitz.
The musician said he was able to log into the email by remembering a password his ex-girlfriend used. The initial acceptance letter sent to Abramovitz by Gilad was deleted by Lee, People reported.
PAKISTAN TALIBAN LEADER KILLED IN US DRONE STRIKE, AFGHAN OFFICIALS SAY
"It was not only a stab in the back but in the heart," Abramovitz said.
The reasons behind Lee's actions remain unclear.
The musician sued Lee for $300,000 in general damages and on Wednesday, a judge in the Ontario Superior Court awarded the musician $260,000 in damages caused by Lee's "reprehensible betrayal of trust and despicable interference in [his] career."
Lee, who has not commented, did not respond to the lawsuit and "lost by default."
Despite Lee's treachery, Abramovitz became Gilad's student after his 2016 audition and attended graduate school at the University of Southern California. He recently accepted a position as the assistant principal clarinetist in the Toronto Symphony Orchestra.
He also said he was dating someone new and was in a "healthier" relationship.
"I'm very thankful that despite what happened and what she did I still landed on my feet and realized what I set out to do," Abramovitz said.
https://www.foxnews.com/world/award-winning-musician-sues-ex-girlfriend-after-she-sabotaged-prestigious-scholarship