At least 20 dead, 70 injured after trains collide in Pakistan, officials say
A collision between a passenger train and a stationary freight train at a railway station in southern Pakistan killed nearly two dozen people and injured more than 70 others, hospital officials said Thursday.
The fatal incident took place at the Walhar Railway Station in the Punjab province town of Rahim Yar Khan when the speeding passenger train rammed into the freight train.
"The Akbar Express going from Bahawalpur to Quetta hit a freight train that was parked there at 7:40 a.m.," a local police official told Al Jazeera.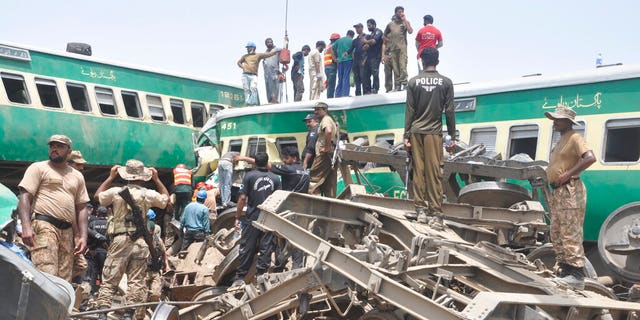 JAPANESE RAILWAY SAYS DEAD SLUG RESPONSIBLE FOR CHAOS THAT DELAYED 12,000 TRAIN PASSENGERS
Senior police official Umar Salmat told local media the collision took place because the passenger train was diverted onto an incorrect track at the station.
At least 20 people were killed in the crash and 74 were injured, some in critical condition, Javed Ahmen, a physician treating the wounded, told the Associated Press.
"The injuries were of multiple types – many had fractures, others had bleeding wounds. Some were crushed under objects," Liaquat Chohan, a senior hospital official, told Al Jazeera.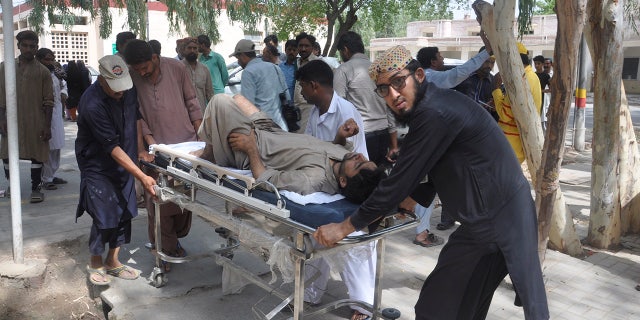 1 DEAD, 6 RESCUED AFTER AVALANCHE LEAVES CLIMBING GROUP STRANDED AT 17,390 FEET ON PAKISTANI MOUNTAIN
Prime Minister Imran Khan ordered authorities to provide the best possible medical care to the victims and said he was saddened by the news.
"My condolences to the victims families and prayers for the speedy recovery of the injured," he tweeted.
Authorities said Pakistan's army was also taking part in the rescue efforts.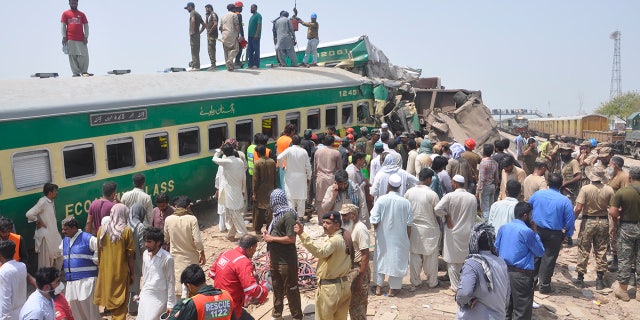 Train accidents and periodic derailments in Pakistan are often the results of the country's aging railway network.
Khan said he has ordered Railways Minister Sheikh Rashid Ahmad to speed up work on the country's rail infrastructure.
"Have asked Railways Minister to take emergency steps to counter decades of neglect of railway infrastructure & ensure safety standards," he tweeted.
The Associated Press contributed to this report.