At least 12 killed in bomb attacks on churches in Nigeria
By ,
Published December 11, 2015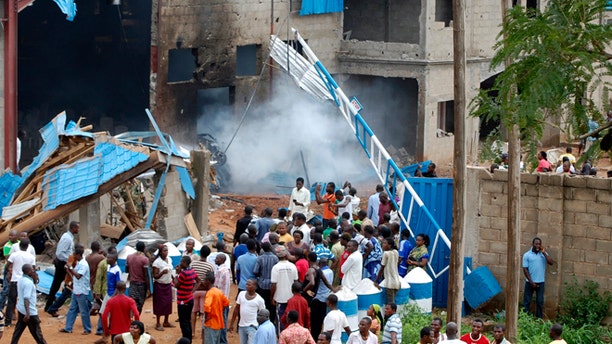 A Nigerian Red Cross official says at least 12 people were killed and 80 wounded in bomb attacks on three churches in the country's north.
Andronicus Adeyemo says 10 people were killed and at least 29 wounded in a blast in the city of Kaduna Sunday morning. He says two people died and 51 were wounded in two church attacks in the nearby city of Zaria. He says the Zaria attacks occurred about 10 minutes apart in different parts of the city.
Churches have been increasingly targeted by violence in Nigeria, a nation of more than 160 million people. An Easter Day blast in Kaduna left at least 38 people dead. A Christmas Day suicide bombing of a Catholic church in Madalla near Nigeria's capital killed at least 44 people.
Authorities said they had no immediate suspects for Sunday's attacks, though a radical Islamist sect known as Boko Haram has claimed similar attacks in the past.
Boko Haram, whose name means "Western education is sacrilege" in the Hausa language of Nigeria's north, is waging an increasingly bloody fight with security agencies and the public. More than 560 people have been killed in violence blamed on the sect this year alone, according to an Associated Press count.
Kaduna state, which sits on Nigeria's dividing line between its largely Christian south and Muslim north, was at the heart of postelection violence in April 2011. Mobs armed with machetes and poison-tipped arrows took over streets of Kaduna and the state's rural countryside after election officials declared President Goodluck Jonathan the winner. Followers of his main opponent, former military ruler Muhammadu Buhari, a Muslim, quickly alleged the vote had been rigged, though observers largely declared the vote fair.
According to Human Rights Watch, at least 800 were killed in the post-election violence. Of the 800, at least 680 people were killed in Kaduna State alone.
https://www.foxnews.com/world/at-least-12-killed-in-bomb-attacks-on-churches-in-nigeria