At 62, US special forces veteran battles against ISIS on lonely desert front
By Benjamin Hall, ,
Published November 04, 2016
On the Western side of Mosul, far from the media's attention, lies a forgotten front crucial to choking off ISIS' lifeline to Syria.
Fox News recently made the eight hour trip west from Mosul to the front outside the devastated city of Sinjar and found a small outpost where a handful of men hold off near-daily attacks from ISIS fighters.
One soldier manning the post was David Shumock, a 62-year-old Floridian and former U.S. Air Foreces pararescueman. The American fights side-by-side with the Kurdish Peshmerga, and serves as medic and trainer to his comrades, as well.
ALLIES WATCH AS ISIS EXODUS HEADS FOR RAQQA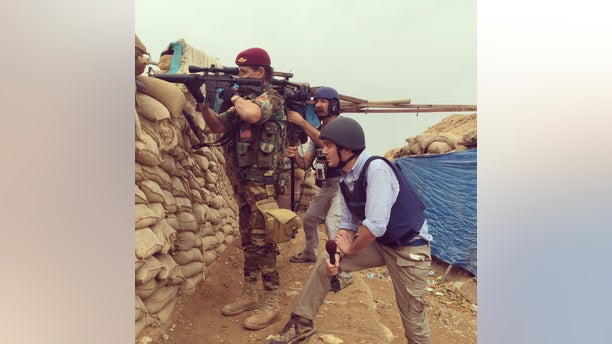 Shumock has called the dusty, makeshift, camp surrounded on three sides by ISIS, for a year. When he and his fellow fighters arrived, ISIS had only just been ousted from Sinjar city. Their first effort was to rebuild the forward base by hand – fixing roofs, and ringing it with lookouts posts.
From this base, the men, part of the Kurdish quick reaction force, support a 500-mile long line, responding to attacks wherever and whenever they come. Often, it's their base under attack from artillery.
The line they oversee straddles the ISIS corridor to Syria, and is a key supply route to reinforce Mosul with both men and equipment. Yet even as the long-awaited move to retake Mosul is underway, the western front has been largely unguarded by the coalition of Iraqi army, Kurdish forces, Shia militia and U.S. advisersworking together against ISIS.
"Conventional military wisdom says you encircle your enemy and defeat him," Shumock said. "For some reason, they've left the western side of Mosul all the way to Syria open, and, as the general told you, we see 500 vehicles moving every day, resupplying Mosul and Tal Afar. And there's nothing we can do."
As he watches these convoys, Shumock explained how they're prohibited from attacking unless they are certain no civilians are in the line of fire.
It's not just the rules of engagement handcuffing Shumock and his fellow fighters. They are sorely lacking in support, he said.

"In the year I've been here, we've never seen a U.S. officer, or received any support from them," he said.
They're so undersupplied they've had to raise money in the U.S. just to buy night vision goggles so they can see what they're shooting at during nightly raids.
Shumock came to Iraq after losing his only daughter in a car crash, and seeing videos of ISIS murdering women and children. He said he wanted to put his military skills into service of a righteous cause.
Near the base lies a grim reminder of the brutality of ISIS: The mass graves of thousands of Yazidi villagers who were killed as their ancestral home was overrun.
Shumock himself has found some of the mass graves while on patrol. Once, he followed a trail of bone fragments to a place where the skulls and bones of countless souls were piled up.
https://www.foxnews.com/world/at-62-us-special-forces-veteran-battles-against-isis-on-lonely-desert-front