Alejandro Toledo Favored to Win Peru Presidency—Again
By ,
Published December 13, 2016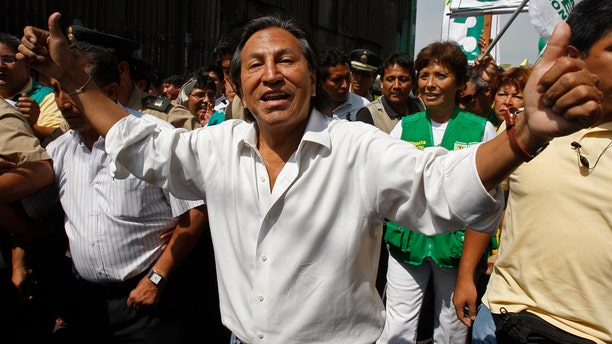 Between 2001 and 2006, then-Peruvian president Alejandro Toledo had approval ratings that dipped below 10 percent. But headed into the country's April 10 election, just weeks away, the country's first indigenous president is leading the polls.
When most Peruvians look at 64-year-old Toledo, they see themselves — or what they might look like with a Ph.D. And though most frowned on his lifestyle as president, they may give him another chance to run the country.
A former shoeshine boy turned economist, Toledo proudly calls himself "El Cholo," a term referring to the Indian ancestry of most Peruvians that is generally considered racist when uttered by Peru's European-descended elite.
Yet for all his ease with Peru's masses as he cracks jokes and hugs supporters in its poorest barrios, Toledo has been pummeled for weeks by rivals who have tried to revive old scandals and controversies.
In the latest Ipsos-Apoyo poll, Toledo had 23 percent support, down 5 percentage points from late February, but still ahead of Keiko Fujimori's 19 percent. The 35-year-old congresswoman is the daughter of former President Alberto Fujimori, who beat back Shining Path rebels and runaway inflation in the 1990s but is now serving a 25-year jail sentence for killings and kidnappings by security forces during his presidency.
Leftist former army colonel Ollanta Humala, who lost a 2006 runoff to Alan Garcia, climbed to third in the field of 11 candidates with 17 percent, according to the poll, which had a margin of error of plus or minus 2.2 percentage points. Trailing in a tie for fourth with 14 percent were former Lima Mayor Luis Castaneda and Pedro Pablo Kuczynski, who was finance and prime minister under Toledo.
Another poll, released Wednesday, had Toledo dropping further — with 20.5 percent to Keiko Fujimori's 20 percent. The margin of error for that poll was plus or minus 2 percentage points.
A runoff is a near certainty, as no candidate is likely to get an outright majority to win the first round.
Attacks on Toledo have been so strong that he displayed a toxicology report during a televised presidential debate on March 13 to prove his body is free of cocaine, marijuana, amphetamines and opiates.
He accused the Lima newspaper Peru.21 of distortion after it said it obtained receipts showing Toledo's presidential palace bought 1,753 bottles of Johnny Walker Black Label Scotch whisky during his tenure.
"This is part of the dirty games of the election. I don't even drink whisky," Toledo said in a TV interview, calling the receipts "manipulated."
Toledo, who was elected in 2001, was a strident critic of Fujimori, who fled Peru the year before amid a corruption scandal.
He says Fujimori's now-imprisoned former intelligence chief, Vladimiro Montesinos, engineered false allegations he was a hard drinker and cocaine user. During his presidency, Toledo also wrestled with a scandal over his initial refusal to admit he'd had a child outside of his marriage to Elaine Karp, a Belgian-born anthropologist.
During his presidency, Toledo's popularity dived to 8 percent after he raised the presidential salary to $18,000 a month, though he later slashed it by more than half, and he took frequent getaways to a northern beach resort.
But it climbed back to 30 percent by the time he left office. Peru's gross domestic product growth rose from 0.2 percent to 6.8 percent during his presidency as Lima signed a free trade agreement with Washington, and commenced major projects including natural gas extraction in Peru's Amazon jungle and an interoceanic highway with Brazil.
As president, Toledo said during the recent debate, he made "good decisions and bad."
"What I did well I will do better. What I did badly will be corrected."
Many economists say Peru's continuing growth is based on Toledo's policy of emphasizing the free market and wooing foreign investment. It is a sharp contrast to the policy of the candidate who has been Toledo's main competitor for the affections of the poor: socialist former army Col. Ollanta Humala, who lost a 2006 runoff to Alan Garcia. Humala has been running fourth in the polls.
Toledo was born the eighth of 16 children, nine of whom did not live to become adults, in the highland Andean town of Cabana. When he was 6, his family moved to the coastal city of Chimbote, where he shined shoes and sold lottery tickets.
"I lived in a straw home that was invaded by sand in the summer and we shivered at night," Toledo told residents of San Juan de Lurigancho, one of Lima's poorest barrios, where thousands lack running water and electricity.
When he was a teen, a U.S. humanitarian worker couple recognized Toledo's talents and helped him obtain a scholarship to the University of San Francisco. He earned a master's and doctorate at nearby Stanford.
"He's someone well trained who wasn't born in a golden cradle, a self-made man," said Jose Villanueva, a 32-year-old travel agency owner who has decided to vote for Toledo.
Most polls show Toledo easily prevailing against Keiko Fujimori in a second round but in a tight fight with Castaneda if the former Lima mayor survives round one.
Peruvian voters are fickle, however: Twenty to 29 percent of voters said they may change their mind before election day.
Based on reporting by the Associated Press.
Follow us on twitter.com/foxnewslatino
Like us at facebook.com/foxnewslatino
https://www.foxnews.com/world/alejandro-toledo-favored-to-win-peru-presidency-again