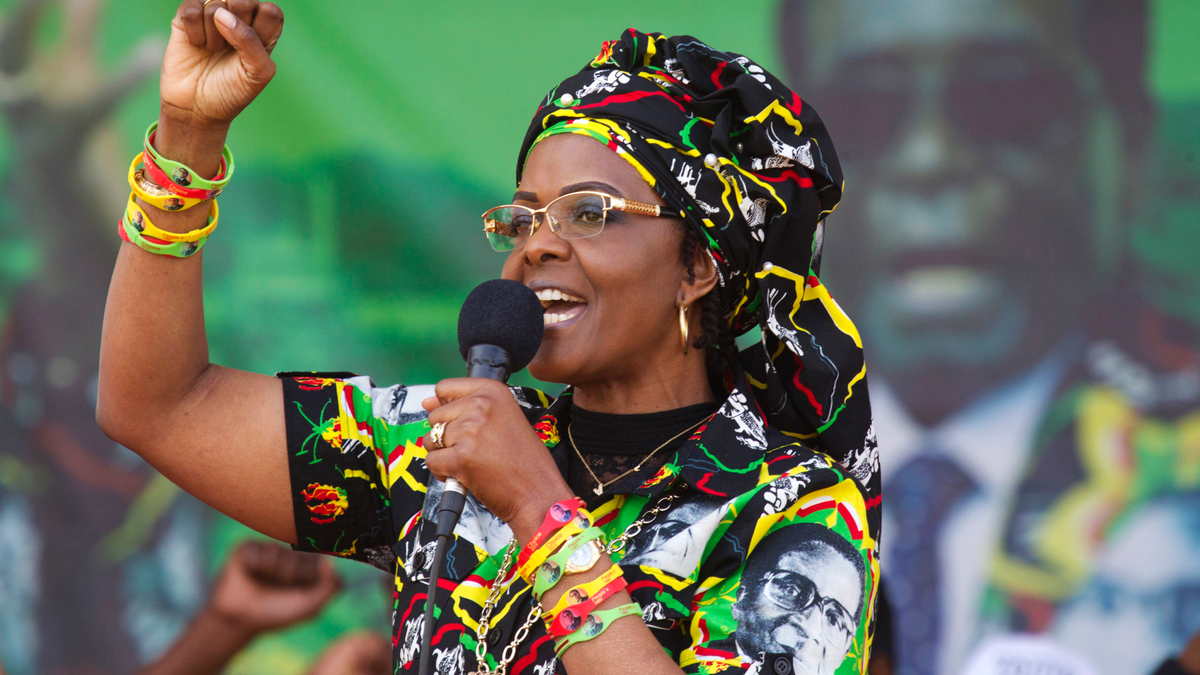 JOHANNESBURG – A South African model's claims of assault have drawn attention to Zimbabwe's increasingly outspoken first lady Grace Mugabe, who is a possible successor to her 93-year-old husband. As President Robert Mugabe flew to neighboring South Africa in part to deal with the crisis, Zimbabwe's government requested diplomatic immunity for the first lady and South African police issued a "red alert" to prevent her from leaving.
Here's a look at the wife of the world's oldest head of state, who has faced assault claims elsewhere in the past:
___
WHAT HAPPENED?
Twenty-year-old model Gabriella Engels claims that the 52-year-old Grace Mugabe attacked her with an extension cord in a luxury hotel in a Johannesburg suburb on Sunday evening.
Engels claims she was in a hotel room with mutual friends of Mugabe's two sons, who live in Johannesburg, when the first lady burst into the room and assaulted her. Photos posted on social media show a bloody gash to Engels' forehead that she claims was a result of the encounter.
Mugabe has not commented on the allegations.
"I want to go to court because I really feel like she should go to jail for what she did to me," Engels told The Associated Press.
Mugabe has been accused of assaults during other overseas trips, including a 2009 visit to Hong Kong in which a photographer accused her of beating him up.
___
WHO IS THE FIRST LADY?
The South African-born first lady was plucked by President Robert Mugabe from his secretarial pool decades ago. She bore him children and, after the death of his first wife, Grace and the president married in 1996. Though Grace Mugabe has been lampooned by critics in the past for shopping expeditions and a doctorate obtained under questionable circumstances, she has built a serious if polarizing political profile with charity work and frequent rallies in recent years.
Last month, she challenged her husband publicly for the first time to name a successor, wading into a subject that the president has regarded as taboo. She previously said her husband could rule from the grave. "If God decides to take him, then we would rather field him as a corpse" in the 2018 election, she said early this year.
Robert Mugabe, who has led Zimbabwe since 1980, already has started campaigning for next year's vote. He has repeatedly said he will not choose a successor.
___
WHERE IS GRACE MUGABE NOW?
Grace Mugabe's exact whereabouts were unclear Thursday, a day after her husband arrived in South Africa for a regional summit.
Zimbabwe's state-owned Herald newspaper reported last weekend that the first lady was in South Africa seeking medical care, but it is not clear whether she entered the country on a diplomatic passport.
The case has quickly assumed a political flavor, with South Africa's main opposition group warning President Jacob Zuma and his administration not to let Mugabe leave. And lawyers working with the model say they will consider making an urgent application to South Africa's courts in the next few days, insisting that diplomatic immunity can't be used to "escape prosecution from grave crimes."