2 US Missionaries Slain in Mexican Home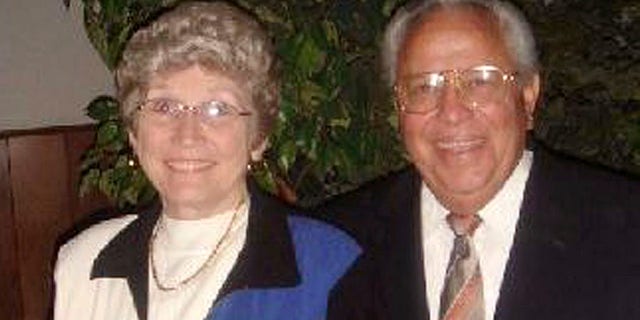 Two days after the Texas couple were discovered strangled in their home, mourners paid homage Thursday to John and Wanda Casias inside the church they founded in a violence-plagued region of northern Mexico.
More than a dozen mourners passed to view the open caskets, one an American who came from Texas because John Casias officiated at his wedding. He did not want to give his name for security reasons.
Shawn Casias said he discovered the body of his mother at about 4 p.m. Tuesday when he went to their home in the town of Santiago to pick up a trailer.
He said she was lying on the floor with an electrical cord around her neck and a gash from a blunt object on her head.
The house had been ransacked and was missing a couple of computers, a plasma television and a safe that had been chiseled out of the wall.
The couple's Chevrolet Suburban was also missing, and Casias said he initially thought his father had been kidnapped.
But about four or five hours later, he said, a forensic investigator informed him that the body of his father had been found in a storage room of a small building on the property. His father also had an electrical cord around his neck.
John and Wanda Casias were originally from Amarillo, Texas, but relatives said they moved to an area outside the city of Monterrey in the late 1970s or early 1980s and First Fundamentalist Independent Baptist Church.
Fighting between the Zetas and Gulf drug cartels has brought a surge of violence and other crimes to Monterrey and the surrounding region since 2010. In poorer suburbs, entire blocks have been held up by gunmen and young people snatched off the streets.
Another son, John Casias, said his parents had devoted 29 years of their lives to their ministry in Mexico and spent each day in prayer and saving souls.
They were well aware of the violence around them and the risks, but were so secure in their faith that they did not fear it, he said.
They spent Christmas with him in San Diego, and Casias said he told them, "It's getting kind of rough there" and offered to let them stay at his home for awhile. They refused.
"We were called to Mexico," Casias said his mother told him. "These are our people."
Casias said he hoped the bodies would return to the U.S. later Thursday. He was organizing a service to be held at their home church in Lewisville, Texas.
Shawn Casias said a sister-in-law in Dallas had spoken to their mother around 11 a.m. Tuesday and everything was fine. So he believes there was about a five-hour window when the killings could have occurred before he showed up.
He said the killers did not take everything they could have, leaving two of the three TV sets. He said perhaps they were warned that he was coming, because anyone watching the winding road approaching the home could have alerted them.
"They're scum. They're not sophisticated," he said.
Speaking from his parents' home, about 95 miles (150 kilometers) southwest of the Texas border, Casias said the house was burglarized two years ago when the couple were on one of their periodic visits to the United States to talk at churches about their work in Mexico.
Jobless Mexicana Flight Attendants Pose for Calendar
"We're convinced that it's somebody he knew," Casias said of the killers. He said authorities had some leads based on people seen around the home.
John Casias was 76. He had recently priced a knee replacement because he couldn't walk more than 100 yards (100 meters) without having to sit down, Shawn Casias said. Wanda Casias was 67.
Casias said his parents held services and prayer meetings at a church about 3 miles (5 kilometers) from their home.
The couple maintained a website, www.casias.org, with details of their lives and their missionary work
"The only hope for the Mexican people today is Jesus in them, the HOPE of glory," they wrote in one dispatch from last summer. "I confess that it's getting easier to witness to the wealthy, at least they are listening. The wealthy are fleeing to Canada and the USA for protection. The only problem is that when they return to renew their visas the cartel is waiting, and either kill them of (sic) kidnap them for thousands of dollars, in some cases millions. The cartel has NO mercy or value for life. They are ruthless murderers!"
It was the second slaying involving American missionaries in a year in the Mexican region bordering Texas.
In January 2011, a Texas couple who had been doing missionary work in Mexico for three decades were attacked at an illegal roadblock in one of the country's most violent areas.
Nancy Davis, 59, was fatally shot in the head while her husband, Sam, sped away from suspected drug cartel gunmen who may have wanted to steal their pickup truck, authorities said.
The Davises were driving along the two-lane road that connects the city of San Fernando with the border city of Reynosa in the state of Tamaulipas, which borders Nuevo León.
Based on reporting by the Associated Press.
Follow us on twitter.com/foxnewslatino
Like us at facebook.com/foxnewslatino